Cayey, 6 de Noviembre: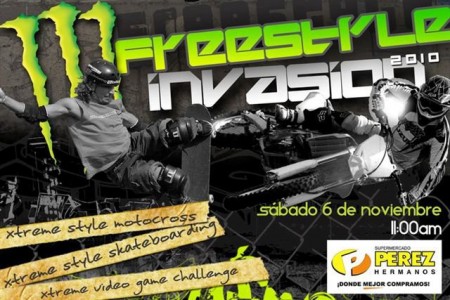 ____________________________________________________________
Bayamon 13 de Noviembre: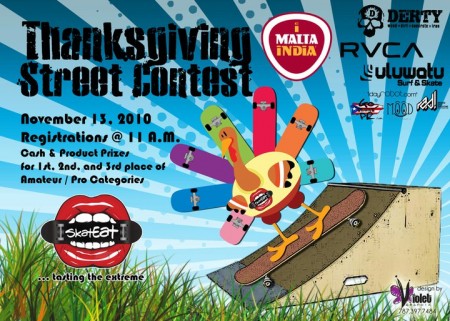 ____________________________________________________________
Vega Baja, 14 de Noviembre: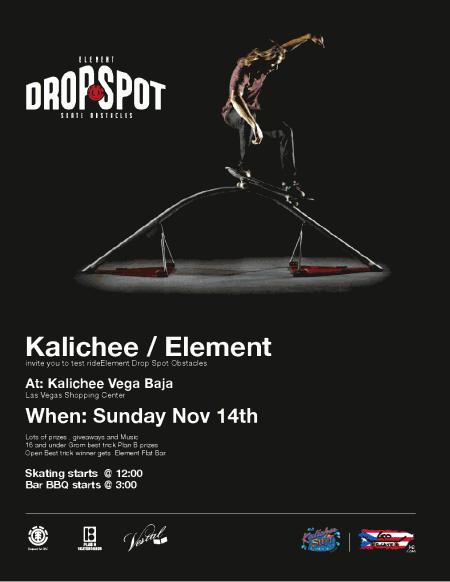 ____________________________________________________________
Fajardo 20 y 21 de Noviembre(Skateboarding el Domingo 21):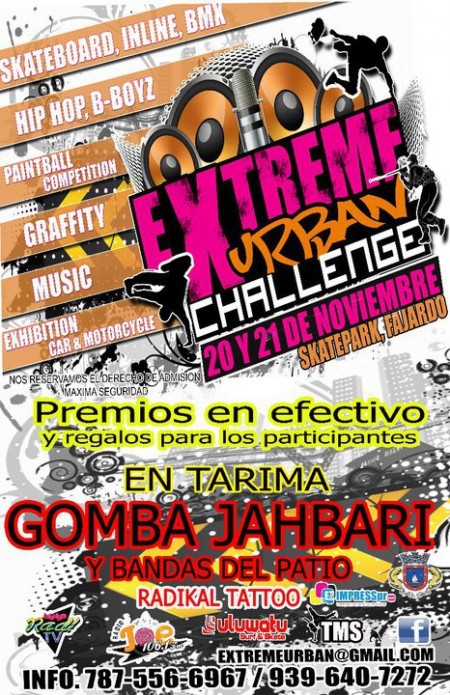 ____________________________________________________________
Aguadilla, 27 de Noviembre: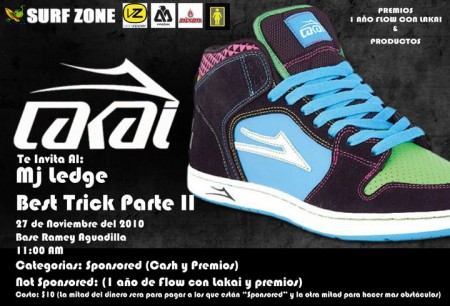 ____________________________________________________________
Ponce, 2qnps Skate For Money Contest, Pospuesto(Trabajando con la fecha)
Después de casi un año que demolieron el skatepark viejo ya casi esta ready el Skate Plaza del pueblo de Cabo Rojo. Primer día que llegamos para ver como estaba eso, primer día que montaron los rails, primer día que los skater pudieron correrlo y yo tuve la oportunidad de presenciar y retratar algunos de los primeros trucos que se bajaron en diversos spots, aquí parte de ellos: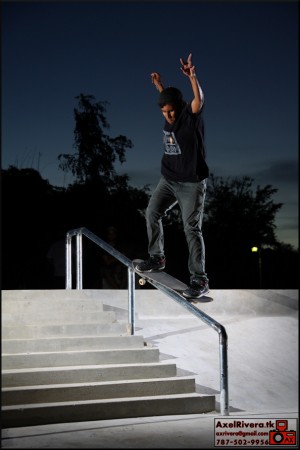 Angel Garcia/Frontside Smith Grind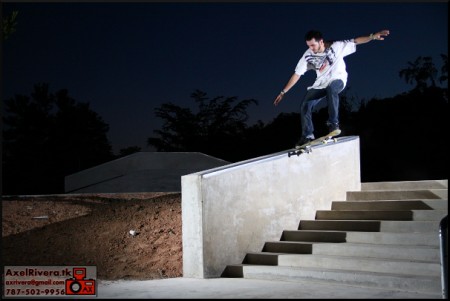 Fico Rodriguez/Baciside Nose Slide
El día de ayer volví a ir al parque y nos encontramos con Adadin Feliciano quien vino de USA y esta residiendo en Yauco :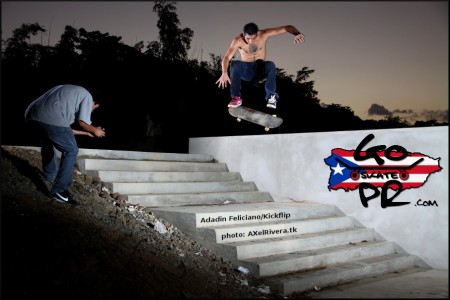 Adadin Feliciano/Kickflip
Juan Garcia Part from LA Scum on Vimeo.
West Los Angeles skateboarding Juan Garcia "Don Juan" and friends Mad Rican Rasta Lou Dan Lieber Sam Baptista Marko Jazbinsek.
_________________________________________________
Este vídeo es traído a ustedes como una colaboración de Juan Garcia "Don Juan"  para GOSkatePR.com. Si estas interesado en participar con nosotros comunicate conmigo atraves de email o facebook:
Email: axrivera@gmail.com
por AXelRivera.tk
Luego de un día tan duro como el 28 de agosto donde participamos del snickers urbania, Demo Famous en el Moisty y Electric Daisy Carnival nos levantamos (no tengo idea de como) para darnos un tour por el viejo San Juan con Manny Santiago y Luis Tolentino. La calor estaba demente y el sol en high y aun así llegamos al viejo San Juan a eso del medio día para irnos a explorar. Después de andar por diversas calles por un rato llegamos a una plaza buscando un Manual Pad pero ya lo habían removido. Así que caminamos por alrededor de la plaza y Manny decidió tirar un gap un poco peculiar como pueden apreciar en la siguiente foto: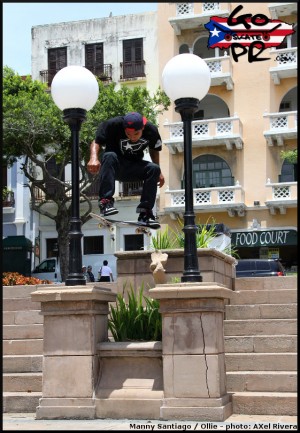 Manny Santiago/Ollie Por el Medio
Seguimos con el tour y Luis Tolentino decidió grabar una linea incluyendo destacar su POP y el que no sepa de lo que hablo que analize la siguiente imagen:
Luego de generar un poco de footage por las calles del Viejo San Juan decidimos llegarle a la plaza de al lado de Ballaja donde seguimos con la producción hasta que la batería se agoto y nosotros también.
Gracias al Representante de Famous por todo!
Disfruten del video y de la galeria de fotos!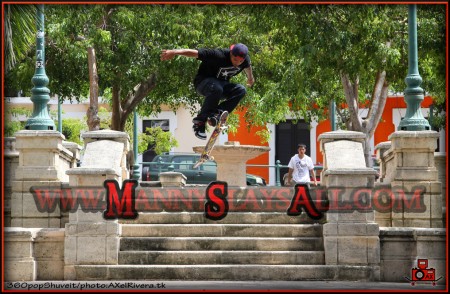 Manny Santiago/360 Pop Shuve it
Video:
Fotos:
To Dream Visuals: Montaje de skate "El Refugio" @ Morovis, PR
10 de Octubre
Morovis: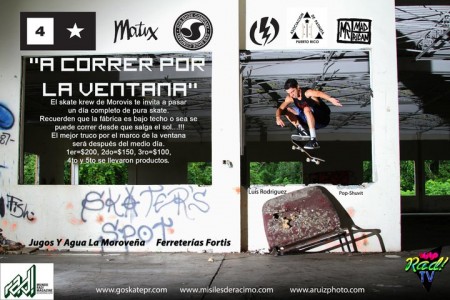 Ruta:
Del Norte: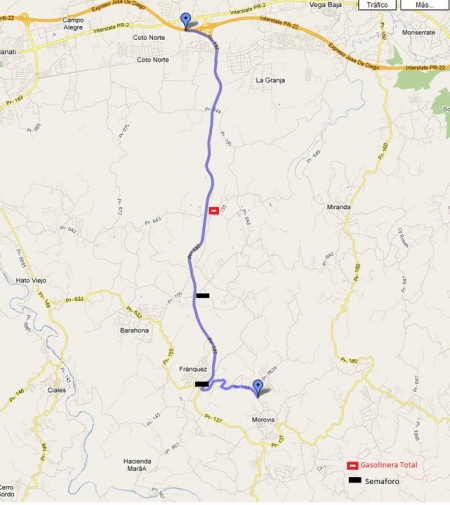 Para los que vienen por el Norte, Expreso 22, Se salen en la salida 42 hacia Morovis, De ahi caen en la Carr 137, van a seguir la carretera, luego de aproximadamente 7 minutos hay una gasolinera Total(esta marcado en el mapa), en el segundo semaforo luego del Total doblan a la izquierda y siguen esa carretera que es directo todo el tiempo.
______
Del Sur: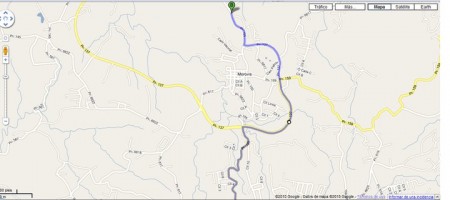 Para los del Sur, viniendo de Orocovis por la Carr 155, siguen la carretera hasta llegar a las Carr 137( en el cruce hay una sola luz de semaforo guindando que ni sirve) ahi doblan a la derecha y lo siguen directo hasta el final de la Carr 137, en el final doblan a la derecha, si ven un Cuartel de policia municipales y un Mcdonalds estan bien y como a 20 segundos de la Fabrica…
_____________________________________
por AXel Rivera
www.AXelRivera.tk
El Element Drop Spot celebrado en Tres Palmas Surf Shop fue un evento unico ya que consistia en un street course montado por los obstaculos "Element Drop Spot".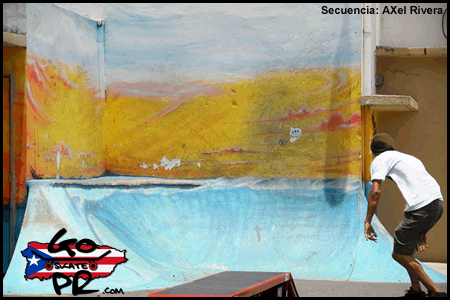 Jenssen Torres/Wallride to Wallride
Este skate contest fue organizado por la gente de Tres Palmas Surf Shop ubicado en Ocean Park, Isla Verde. El estacionamiento del shop cuenta con un quater grande y al otro lado esta pared donde acabamos de ver a Jenssen Haciendo un WallRide to WallRide desafiando la gravedad!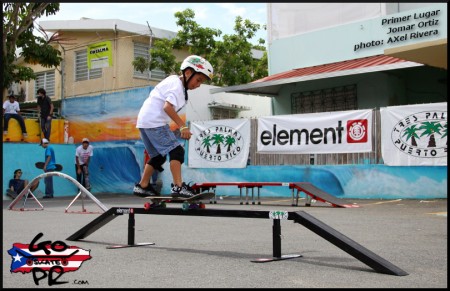 Jomar Ortiz/50-50
Se llevaron acabo dos best trick donde el ganador se llevaba para su casa el Element Drop Spot que corrieron. En la categoria de novato fue Jomar Ortiz quien se llevo el flat rail para la ciudad de Ponce.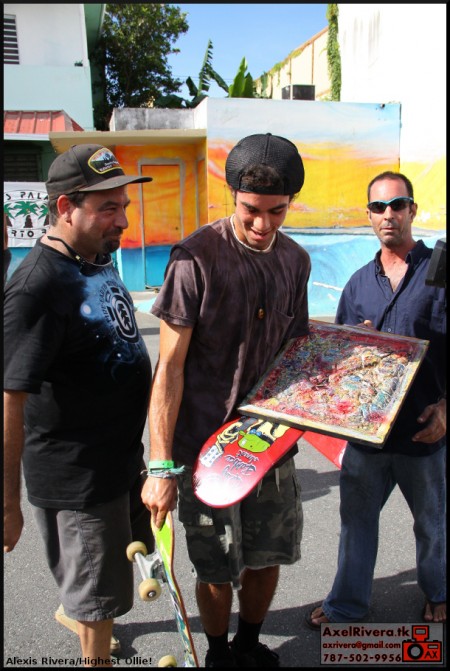 Alexis Rivera/Highest Ollie
Mientras tanto tambien se llevaron acabo varios Challenge como un Highest Ollie utilizando otro de los obstaculos "Element Drop Spot" donde Alexis Rivera demostro quien es el rey del "Pop!" pasando sobre 40″ o 41″ comodo. Respect!

Robert Lopez/Highest Wallride
Aprovechando la pared del skateshop con su gran obra de arte en construccion y pintura que simula una ola con el cielo y las nubes tenemos al ganador del Highest WallRide Robert Lopez. Eso esta Fokin alto!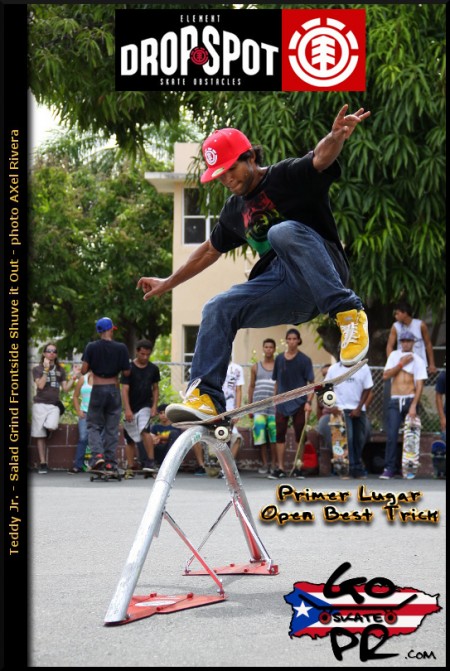 Teddy Jr./Backside Salad to Frontside Shuveit
Ganador del Best Trick
En la categoria del best trick de open hubieron muchos trucos buenos destacando Backside Smithgrinds, 50-50s to SexChange hasta switch 50-50 pero fue Teddy Jr. quien conquisto el Rainbow Bar and Polejamed's de los "Element Drop Spot" con un Backside Salad Frontside Shuve it out! Felicidades a Teddy Jr.!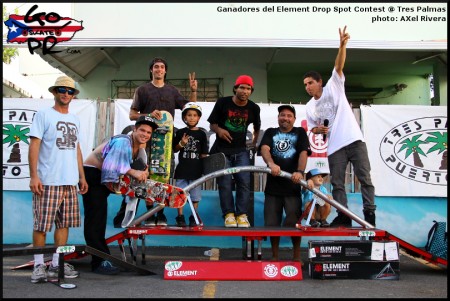 Felicidades a los Ganadores:
Teddy Jr. Best Trick Open
Jomar Ortiz Novato
Alexis Rivera Highest Ollie
Robert Lopez Highest Wallride
Video:

Fotos:
por: AXel Rivera
_______________________
El pasado 28 de Agosto se estuvo celebrando el "Free Skate Day and Demo Famous" @ Moisty Skatepark, Bayamon!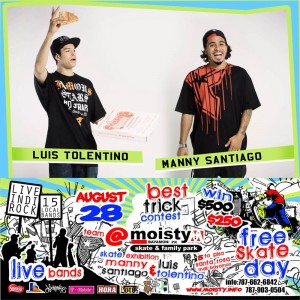 Durante este día estuvieron bandas Hardcore tocando en vivo mientras en el skatepark todos podían correr de gratis.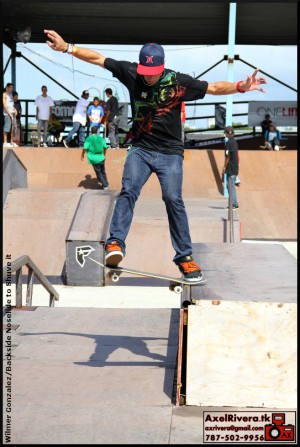 Wilmer Gonzalez/Backside Noseslide to Shuve it
A eso de las 2:00pm comenzó el demo de Famous con Luis Tolentino, Manny Santiago, Duhamel Rodriguez, Teddy Jr,  y Orlando Ramos.
Este sesh se dio muy bueno y pudimos ver el dominio y la consistencia de estos skaters.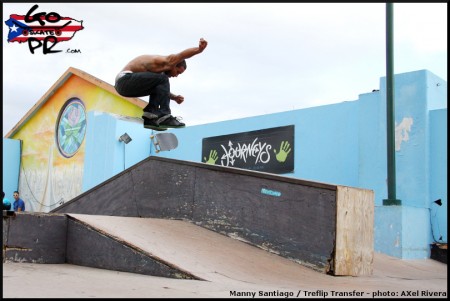 Manny Santiago/360Flip Transfer
Mientras caía el sol se estuvo celebrando el best trick que incluia la parte de los ledges y el pasa mano.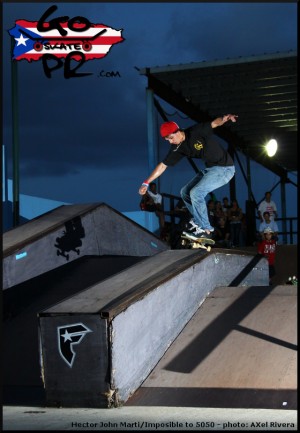 Hector John Marti/Impossible to 50-50
Este best trick lo ganaron Hector John Marti en primer lugar con un impossible to 50-50, Teddy Jr. en segundo con 360flip to 50-50 y Bryan correa tercero con un huge backside Five O.
A continuación pueden disfrutar del video y la foto galeria del demo:
Video:

Video por J.J. Rivera & Teddy Jr.
Galeria:

fotos por AXel Rivera