Por Pedro Huck Rosa

Savage Summer time Sections on the mini ramp from de la manga productions on Vimeo.
Aron Geiger y el corillo de Ramey han sido los responsables de traer al mundo varias nefastas producciones tales como Knock it Off 1, Knock it Off 2,
y sus famosos Hal Coal Sections, en los cuales presentan montajes de varios de sus tours, ripeos locales en el bowl de Ramey y en su famoso spot de la canchita
con varios boxes divertidos construidos a cojones, sin faltar por supuesto su sentido del humor caracteristico lo cual los hace únicos.
En esta ocasión De La Manga Productions les trae un montaje salvaje de dos partes que presenta varios ripeos intensos en la mini de Aron filmados en los pasados meses.
Protagonizado por Aron Gieger, Danny Rivera, Jon Verduin, Christian Rivera, Pedro Huck Rosa, Alexis Rivera, Steven Lilly,Manuel de León, el corillo de Arecibo, Fi Fi y muchos mas…
Con una aparición muy especial de The French Guy…
Espero lo disfruten, chekeen la cara de Carlos Padilla para bonus points, jejejeje…
Por Pedro Huck Rosa
Entrevista hecha por el programa Mundo Rad! TV al skateboarder puertorriqueño Alexis Rivera.
Gracias a The Room Surf and Skate Shop, Volcom Clothing, Globe Shoes, Element Skateboards y Electric Sunglasses.
FIlmado por Esteban Katz, Sebastián Katz, Huriol Vega, Manuel de León, Carlos Padilla, Gustavo Torres, Sergio Santori, Steven Montero, Nico Magales y Pedro Huck Rosa.
Gráficas por Patricio Pascale
Subtítulos por Pedro Huck Rosa
Producido y Editado por Esteban Katz y Sebastián Katz
Hecho con orgullo en Isabela Puerto Rico
Música:
"Perdida"
"Mujer Fatal"
"Cámara Lenta"
Por: Hábitat
Álbum: Epílogo
http://www.myspace.com/habitatspace
No se pierdan Mundo Rad! TV
Todos los Domingos
a las 8:30 PM por Mega TV.
Mega TV:
Dish Network canal 30
One Link canal 30
Liberty Cable Vision canal 30
Choice Cable TV canal 24
Direct TV canal 169
Enjoy!
The Rad! Crew
Por Pedro Huck Rosa
Seguimos trabajando con mucho esmero y enfocados en presentar continuidad para así poder mostrarles el progreso en la producción de la película, en especial a todos aquellos que diariamente nos preguntan ¿Cuando sale Misiles de Racimo?  Gracias por el interés en el proyecto, ya que esto nos llena de mucha motivación para seguir adelante, sobrellevando toda tribulación y tornando toda imposibilidad en realidad.
En este update presentamos nuevo material fotográfico de Iradiel Rivera, quien a través del proyecto ha tenido la oportunidad de pulir sus habilidades capturando momentos que, aún para los que lo presenciaron, resultan ser increíbles.
Se que te mueres por saber que pasa por la mente de Manuel de León mientras observa este rail que puede ser calificado como un obstaculo, pero para soñadores no es mas que un mero vehiculo para alcanzar ese tan preciado sueño.
Entra a WWW.MISILESDERACIMO.COM para que puedas ser testigo de lo ocurrido durante este ataque.
Era una tarde aburrida y recibo una llamada de Samyr(Melendez) y me pregunta: que vas a hacer? y yo le respondí: "nada que correr un rato" y me dice que me va a recoger para ir un rato al skatepark de Juncos llegamos y empezamos la tarde de skate. Al ratito llego Danny(juncos) y le dije para grabar 2 o 3 cositas y así surgió la grabadera. En el video aparecen Samyr Melendez, Miguel Acevedo (Yo) y Danny(juncos).
By: Miguel Acevedo
Dia 2:
by Teddy Jr
Estuvimos peleando con el sueño para podernos levantar a las 6:30 a.m. ya que la noche anterior la pasamos tripeando el corillo entero. En esta edición de [2qnps] Tv! está todo en orden cronológico. Los spots fueron uno detrás de otro(suerte que existen pastillas para calmar el dolor). Como ven ahí, JJ Rivera metió mano al 100%. Gracias al él es que este tour se pudo llevar acabo por que se atrevió a tirarse el mamey en su carrito. También le doy las gracias a Duhamel Rodríguez quien nos dió la mano soportando a Cantú, JJ, Dovi, Jenssen y a mi personalmente. Este ha sido el trabajo más grande que he elaborado para [2qnps] Tv!. Lo hice con mucho esfuerzo y sacrificio. Espero que les guste.
Gracias a todos los que le metieron a la skate, a los que ayudaron en el filming y a los que le babearon la almohada a Duhamel!
por Juan C. Rodriguez aka Bumbax
Luis F. Vientós Nieves, mejor conocido como "Chanita" o el "Chana" es un skater reconocido en San Sebastián y en casi toda la isla. Siempre apoyando el deporte desde chamaquito por los barrios del pueblo pepiniano, también marcando su arte mediante su reconocido tag "CH!" y manteniendo el nombre de West Side Mafia en alto, Chanita ha progresado siempre manteniéndose underground.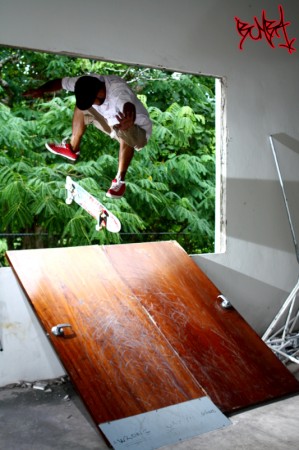 Heelflip
Éste se ha dado también la tarea de generar spots en fábricas ubicadas en Pepino, como lo fué la abandonada fábrica AVON y la fábrica de textiles en el casco urbano. En el cual para ambos casos, chanita y pal de panas, tuvieron la iniciativa para limpiar y arreglar los spots para que los chamaquitos se curaran y la policía no llegara a botar a nadie.
Es en la última fábrica hecha el spot que le pedí a chanita tomarle unas fotos de par de trucos, los cuales siempre tienen su estilo agresivo e inovador que sólo el sabe como llevar. Espero que las disfruten!
Si le das a la [ i ] te dice el truco
Si le das a la [ FS ] te pone la galeria fullscreen
y Si le das a [ SL ] te hace un slideshow

Para el 24 de octubre tendremos un Mini Ramp and S K A T E Game contest…
Pronto mas info
Preview del segundo dia del [2qnps] Tour @ Arecibo… Enjoy!