Arecibo:
Este Domingo 21 de Marzo!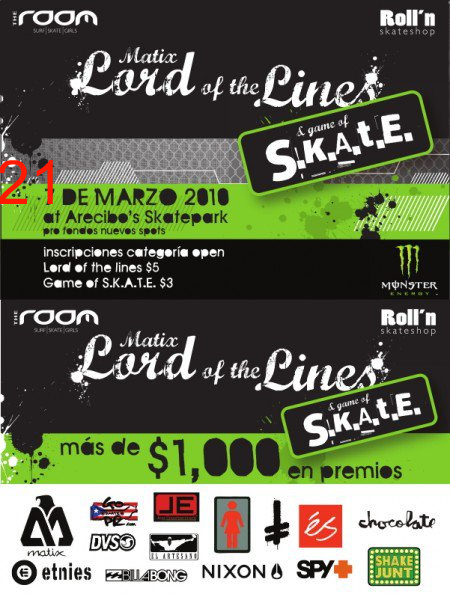 Clickea para que lo veas mejor
TheRoom surf and skate Shop Roll'n skateshop & Monster Energy Drink Presentan:
Matix Lord Of The Lines Contest en ARECIBO
21/Marzo/2010.
( 2:00pm game of skate 6 :00pm en adelante lord of the lines)
por Facebook dicen: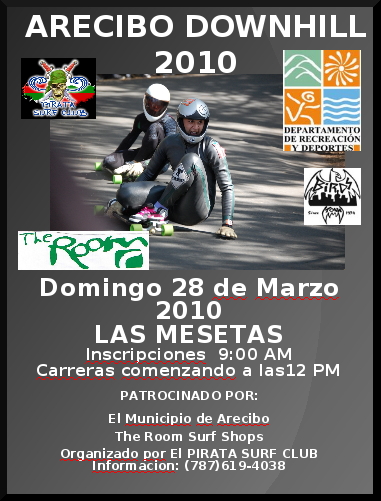 Flyer en Power Point:
AreciboDH2010Flier
Registracion para llenar en word:
Las MesetasRegistrationForms2010

Pedro Huck Rosa:
Esta noche pendientes a Mundo Rad! TV que viene fuleteao de skateboarding, Rad Tip de frontside nosegrind con Carlos Cantu, Cobertura del skate contest 2QNPS de Ponce del Sabado 27 de Feb y Cobertura del skate contest de Skatetown en Rincon del Domingo 28 de Feb. Seré presentador del programa por quinta ocasión. Pendientes que la edicion #77 de la revista sale pronto!

Por Pedro Huck Rosa

Segmento filmado para el programa televisivo Mundo Rad! TV Episodio #24
en el cual presentamos un skate tour al pueblo de Ponce Puerto Rico con el
corillo de 2QNPS(Dos Quenepas) junto al fotógrafo de Mundo Rad! Magazine
Alfred Ruiz.
Con la participación de los corredores Jenssen Torres, Lewis Millán y Teddy Jr.
Colón.
Filmado por Pedro Huck Rosa
Filmación adicional por Angel Rosado
Edición por Sebastian Katz, Esteban Katz y Pedro Huck Rosa
Musica:
"Ghost Upon The Sea"
por Goons of Doom
Puedes ver este video, fotos y muchas cosas más en
http://www.mundorad.com/
Además de en internet, el programa se transmite a traves de Mega TV
Estos son los canales:
Choice 16
Direct TV 169
Dish y One Link 60
Liberty 45
Caja convertidora: de San Juan a Arecibo 60,
Quebradillas 26, Mayagüez 16 y Ponce 23.
El evento fue suspendido por que para el area norte no ha parado de llover. Este fue movido para el 21 de marzo, pendientes para mas info.
Arecibo:
7 de Marzo!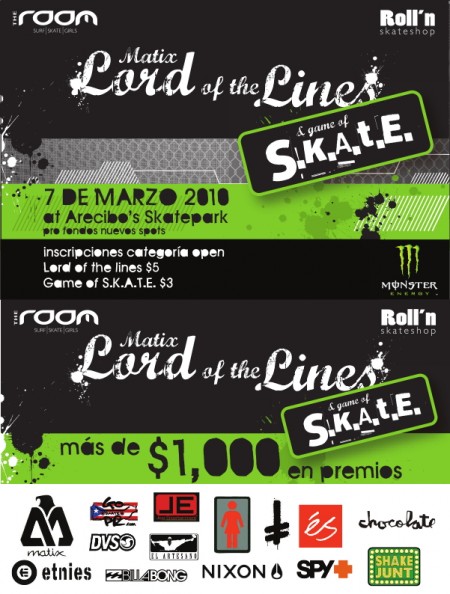 Clickea para que lo veas mejor
TheRoom surf and skate Shop Roll'n skateshop & Monster Energy Drink Presentan:
Matix Lord Of The Lines Contest en ARECIBO
7/Marzo/2010.
( 2:00pm game of skate 6 :00pm en adelante lord of the lines)
be there
*A los los primeros 4 que me dejen un comment aqui con su nombre y pueblo y se aparesca por arecibo le doy una gorra sector 9 como esta cortesia de Rincon SkateTown: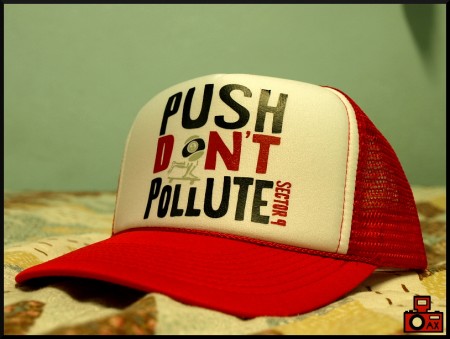 por AXel Rivera
www.AXelRivera.tk
Una tarde aburrida le cai a la cancha del barrio y me encontre a Jim Paul y a Angel Rosado. De aqui estos dos son los sucesores del skateboarding ya que aca casi nadie corre skate. Cuando los vi corriendo me pompie y les dije para sacarles un par de fotos en el banquito con los flashes y ellos dijeron que si. Aqui el producto de este dia:
Fotos:
Si le das a la [ i ] te dice el truco
Si le das a la [ FS ] te pone la galería fullscreen
y Si le das a [ SL ] te hace un slideshow
Jim Paul y Angel desde el Coto
por AXel Rivera
www.AXelRivera.tk
Le pregunte a Jenssen con respecto al video que hiso del día de su birthday esto fue lo que me dijo:
"Acercándose la fecha de mi cumpleanos se me ocurrió la idea de hacer un videito en el parque. Fui con J.J. Rivera temprano para filmar un poco. Estuvimos un rato chileando y calentando para grabar. Ya tenia en mente de lo que quería hacer así que fui al grano. Estuve todo el día corriendo hasta que la batería murió. El sesh fue filmado estrenando fisheye nuevo. También es el primer video que subo con mi cámara. Le incluí un intro animado que hice probando con un pollo de juguete que se que les va a tripiar. Espero que les guste mi "b-sesh". Quisiera darle las gracias a The Room surf & skate también a Matix Clothing por el auspicio, a J.J. Rivera por filmarme y a Goskatepr.com por Ripiar!
Aquí les dejo el video. chek it ouT!"
Ponce:
Este Sabado 27 de Febrero!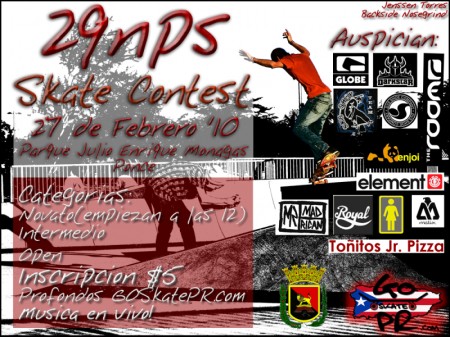 Click para verlo grande
2qnps Skate Contest
27 de Febrero de 2010
Parque Julio Enrique Monagas
Ponce, PR
Categorias:
Novato (Arrancan a las 12)
Intermedio
Open
Inscripciones $5 Profondos GOSkatePR.com
Musica confirmada: Ignorados Comediantes y el ipod
Este Skate Contest es posible gracias a:
Municipio Autónomo de Ponce, DVS, DarkStar, Mad Rican, Toñitos Jr. Pizza, The Room, Girl Skateboards, Globe Shoes, Skateshop San Germán, Matix Clothing, Enjoi, Element Skateboards, la familia [2qnps] y GOSkatePR.com
Llega temprano
_______________________________________________________________________
Rincon:
Este Domingo 28 de Febrero!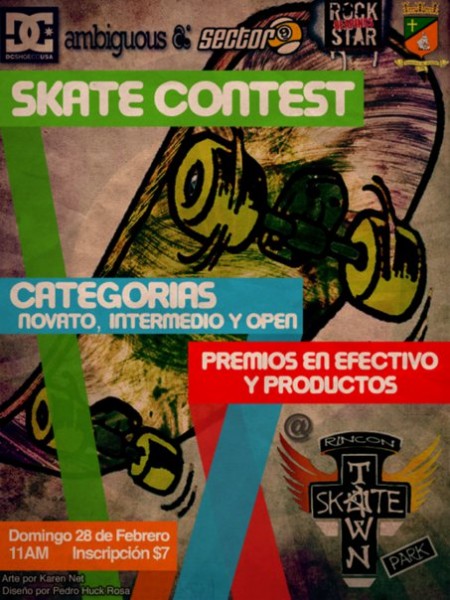 by AXel Rivera
www.AXelRivera.tk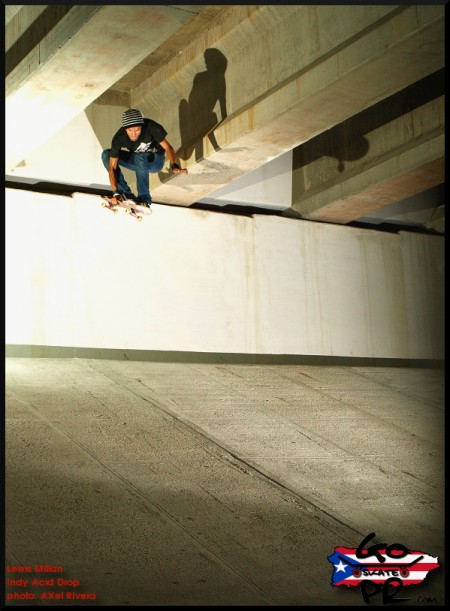 Click para que la veas Full Quality
El día de hoy terminamos en un spot bajo un puente donde Jenssen Torres, Hector John Marti y Lewis Millan estuvieron grabando un poco de su repertorio. Entre los trucos presentes estuvieron 360 Kickflip, Hardflip, Nollie Inward heelflip entre otros. Destacando en esta foto a Lewis Millan con este Acid Drop del infierno. De que si te la das ahí terminas mas feo que Freddy Krueger.