Saludos Patineteros, hoy les presento un video traido gracias a "Los Parceleros" dejandonos ver lo que esta sucediendo en la "new school" de la escena de Ponce ahora con el recien inagurado Los Caobos Skate Plaza. Enjoy!

Editado por Jonathan Caraballo
Filmado por Edwin Matos
Canal de Youtube: http://www.youtube.com/J0HNJ0HN09
Cancion: Tego Calderón – Mil Cosas
New West Films presenta un minuto de Skate en el Cesar Cuevas Skateplaza de Cabo Rojo.
Jose Cruz, Christian Perez, Derek Ramos, Alexis Rivera, Teddy Jr, Gustavo Torres, Fito Dumeng, Jaime Baeza, Julio Rodriguez, Jose Chiqui Colon, Hector Marti
Filmed and Edited by: Gustavo Torres
Canal de youtube: http://www.youtube.com/NewWestFilmsTV
Song by Los Gallos – Leche con Quik
El primer video en la calle de New West Films
Jaime Baeza, Angel Garcia, Hector Marti, Johnerik Feliu, Angel Lopez
Directed
Filmed and Edited by: Gustavo Torres
Canal de youtube: http://www.youtube.com/NewWestFilmsTV
Song by Indigo – Las ovejas y los lobos

Nuevo Video del Tour al Skate Plaza de los Caobos Ponce, PR. Alexis Rivera, Duhamel Rodz, Manuel De Leon, Yariel Melendez, Orly Colon, Teddy Jr. y Jenssen Torres. Filmed and edited by Orly Colon ORlyrask8 TV!! ©
El primer video de New West Films en el Cesar Cuevas Skateplaza de Cabo Rojo.
Johnerik Feliu, Jaime Baeza, Adadin Feliciano, Angel Garcia, Jose Cruz,Angel Lopez, Gustavo Torres, Angel Ramirez, Hector Marti, Teddy Jr, Juan Carlos Cuevas,
Directed
Filmed and Edited By
Gustavo Torres
canal de youtube: http://www.youtube.com/NewWestFilmsTV
Espero puedan disfrutar de este video que quise compartir con ustedes. Aveces nos quejamos y frustramos por que no nos salen ciertos trucos o tenemos miedo de brincar ciertas escaleras pero miren como las ganas de querer hacerlo logran que algo que pareceria imposible vaya mas alla de eso. Sigan practicando que a la larga seran buenos si se lo proponen!
AMAZING skater! brought to you by Funny Pictures
26 de Febrero 2011 @ Parque Julio Enrique Monagas, Ponce

Auspician:
Academia de Baile Dancing, Dancing
787-432-3828
Ofrece Curso de Hip-Hop todos los jueves a las 4:00pm
Para ninos de 6 a 11 anos.
Matricula Gratis
Urbanicazion Perla del Sur, Calle Carroza, detras del edificio Japs en el segundo nivel, Ponce
__________________________________
Pinchos Tito
"Los de la Marginal"
En el Ponce By Pass
Frente a Henry Motors
__________________________________
Julian Tire Service
con Gomas, Baterias, Accesorios, Cambio de Aceite y Filtro!
telefono 787 848 2335
Carretera 14, Barrio Coto Laurel antes del puente de ir hacia Juana Diaz.
__________________________________
La 14 Muffler Shop
Taller de Mecanica
Centro de Inspeccion
Bregamos Muffler, Alineamiento computarizado, Cambio de Aceite y Filtro, Mecanica general para todo tipo de auto, Venta de
Radiadores Nuevos
Alli te espera el senor Ronnie Vargas telefono 787 259 8373
_______________________________________
South Satellite Television
Venta y Servicios de Antenas Dish Net
Urbanicazion Perla del Sur
Senor Jorge Rodriguez Sanabria
telefono 787 841 3791
_______________________________________
Japonce JDM Imports
Venta de acceosorios y piezas JDM
Toyota, Mazda, Honda, Mitsubishi, Subaru, Nissan, Daihatsu, Suzuki, Etc.
Carretera 14, Barrio Coto Laurel, Puerto Rico
_______________________________________
Anexion
Salon de Corte y Estilo Unisex
939 579 8009
Carretera 14, Barrio Coto Laurel
_______________________________________
Check Engine Motor Parts
Venta de Motores y transmisiones Japonesas y Coreanas
Toyota, Mazda, Honda, Isuzy, Subaru, Suzuki, Daihatsu, Nissan, Etc.
alli te espera David Lopez
Carretera 14, Barrio Coto Laurel.
______________________________________
Tonito Jr, Pizza
Parque Jurio Enrique Monagas
con la smejores Pizzas
Oferta de pizza grande de queso tan solo $10.00
Pizza es lo que quiero
-Accesibles
-Sabrosas
-Calientitas
Llama y ordena tu oferta
787 975 8967
_____________________________________
Elecro Mecanica Orlando
Carretera 14, Barrio Coto Laurel
Orly te atiende
787 841 0074
_________________________________
Bengie Men Hair Stylist
Urbanizacion Perla del Sur
calle corrosas, Ponce, PR
Frente al parque de Pelotas
787 848 5030, 447 9035
Skatepark Preview:
por Axel Rivera
El Mad Rican Lord of the Boxes escribe una pagina mas en la escena de skateboarding underground de P.R.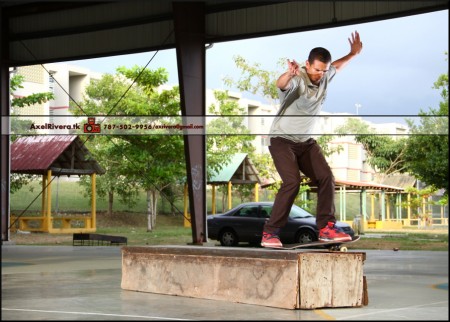 En una cancha del pueblo de Sabana Grande se hubican un par de boxes y sendo corillo de skaters que te hacen sentir como en familia.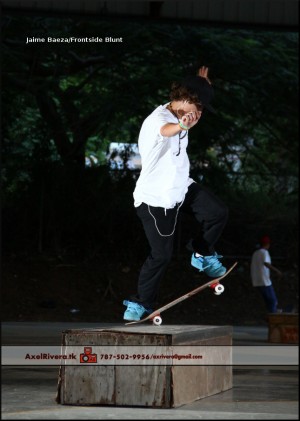 Este evento estuvo lleno de mucho tecnisismo y una fuerte competencia entre muchos corredores quienes dieron su maximo para conquistar este titulo.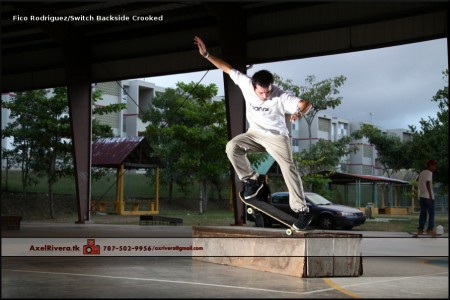 Al finalizar el Lord of the Boxes se llevo acabo el m00d Hardware Best trick en uno de los boxes donde Fernando Quinones nos demosotro el gran potencial de lo que es ser un "Tech Skater" con su Varial Heelflip Backside Nosegrind y luego rematando con un Nollie Kickflip Backside Nosegrind to Reverse.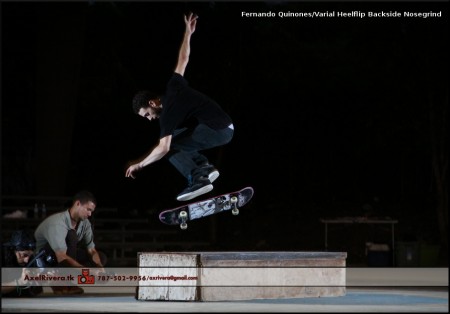 Felicidades a los ganadores:
1. Fico Rodriguez
2. Fernando Quinones
3. Yariel Melendez
4. Jaime Baeza
Best Trick:
Fernando Quinones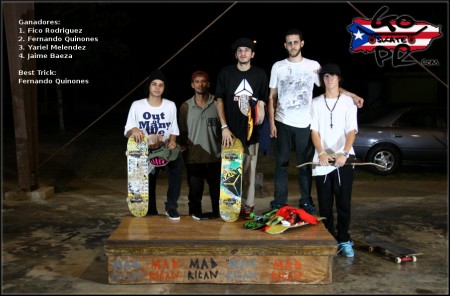 Video:

Galeria:

por: Axel Rivera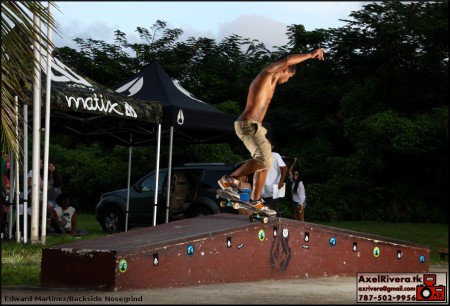 El Sabado 27 de Noviembre fuimos testigo del segundo Lakai MJ Best Trick and BBQ. Al igual que la primera parte este evento fue mas que un contest de skate, fue tambien un get together de skaters con BBQ y Cervezas gratis. Un sol demente pero una brisa que refrescaba y mientras se cocinaban los hamburgers y hot dogs el MJ ledge era el enfoque para nuestros muchachos. Hay que felicitar a Hector John Marti quien por segunda ves consecutiva gana este Best Trick contest demostrando quien es el rey del technical.
Resultados:
1. Hector John Marti
2. Duhamel Rodriguez
3. Edward Martinez
4. Wesley Soto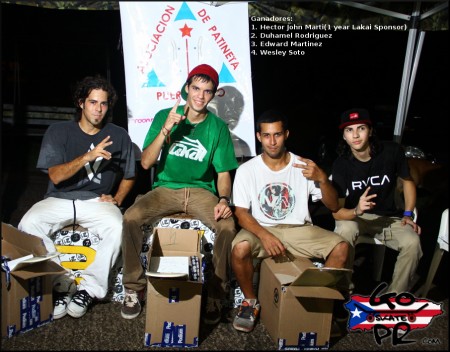 Fotos:

Video:

Video Gracias a Huriol Vega aka Mad Rican( www.MadRican.com )