por AXel Rivera
Aquí les presento un material interesante. Se trata del cumpleanos de Jesús Correa el cual sucedió hace unos meses y no es hasta hoy que se publica este articulo. Gracias a Norbert Machado, Gustavo Torres, Huriol Vega y los que se dieron cita para celebrar el cumpleanos del FIFO! Espero disfruten de lo siguiente:
Fotos:

por Teddy Jr.:
Cuando me entere que era el cumple anos de fifi sabia que tenia que ir, con el nunca se sabe que puede pasar. Sabia que Jesús Correa es una persona espontánea pero no a que nivel. Todo lo que tiraba era como si el lo hubiera tenido planeado desde un principio. Cada spot que pisábamos ya el le tenia un truco para tirarle. La filosofía de fifi es "no hay que pensarlo dos veces" y así mismo lo demostró cuando le tiro el crooked en la cancha de Rosario. El me dijo que le zumbaria crooked me sorprendí y pense: este tipo esta loco, y el loco termino zumbandolo super clean empezando el día.  Me convencí que si al medio día ese era el almuerzo de el, el día seria uno lleno de sorpresas. Gracias Fifi por ser un buen Skater y sobre todo un buen amigo. PAZ!
Video:

por Teddy Jr.
www.youtube.com/ted2qpns
Enjoy!

Compilacion de videos del skateboarding queneposo gracias a 2qnpsTV!
Este vídeo es traído a ustedes como una colaboración Teddy Jr. para GOSkatePR.com. Si estas interesado en participar con nosotros comunicate conmigo atraves de email o facebook:
Email: axrivera@gmail.com
Facebook: http://facebook.com/axrivera
por AXel Rivera
www.AXelRivera.tk
Matix Lord of the Lines en Arecibo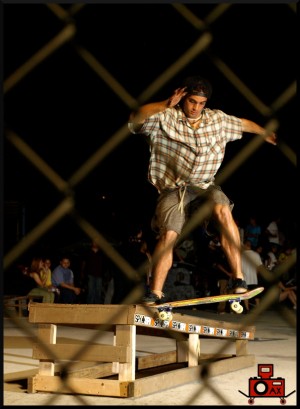 Alexis Rivera
Halfcab Noseslide
Se dice que fue uno de los contest mas largos hechos en PR, al menos yo estuve desde las 11am hasta las 11:30pm y aun estaban cuadrando los lugares cuando me fui.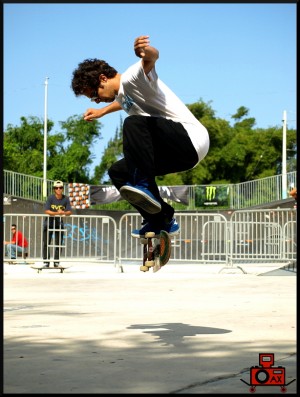 Primero fue un skategame que duró toda la tarde con sobre 60 participantes luchando 1 contra 1.
Mientras el día transcurría tome un par de fotos de lo que estuvo pasando en el resto del parque.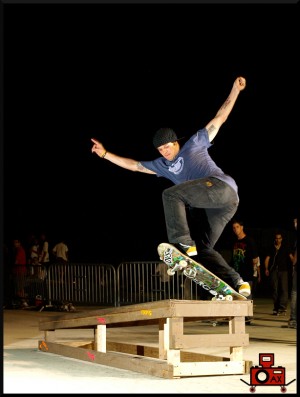 Robert López
Frontside Bluntslide
A la caída de la noche llego la policía municipal con una planta eléctrica y unos focos que pusieron la sección de la linea como si fuera de día.
Resultados:
Lord Of the Lines
1. Robert López – Guaynabo
2. Yariel Meléndez – Bayamon
3. Javier Gutierrez – San Juan
Game Of Skate
1.  Omar Hernandez – Quebradillas
2. Hector John Marti – Cabo Rojo
3.  Robert López – Guaynabo
Espero disfruten del resto de las fotos y del 2qnpstv para que vean lo que sucedió allí.
Video:

Fotos:
Si le das a la [ i ] te dice el truco
Si le das a la [ FS ] te pone la galería fullscreen
y Si le das a [ SL ] te hace un slideshow

Lord of the lines 2 arecibo
Flyer: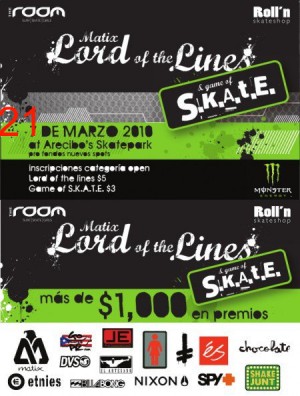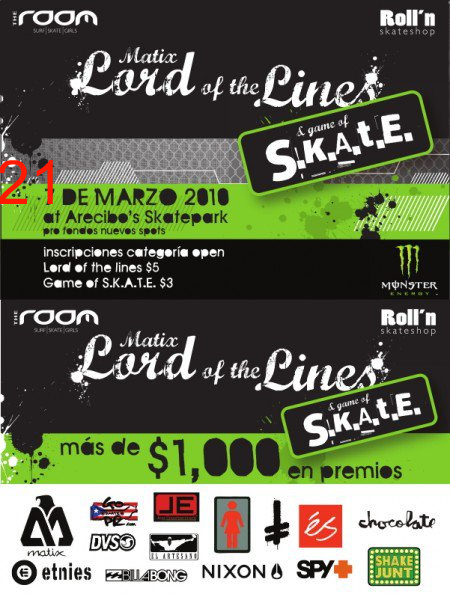 Aqui tenemos otro 2qnps tv donde se muestra como es que se menea el arroz en nuestra olla local. Espero lo disfruten!
"La Cancha"

por AXel Rivera
www.AXelRivera.tk
Luego del trip que nos dimos en el primer día del tour amanecimos a las 6am con un clima desastroso. Bajamos para el skatepark de Quebradillas y este estaba completamente lleno de agua y apenas pudimos correr unas rampas como observaran en el vídeo.
Fuimos a un spot para ver las condiciones del mar ya que se hablaba de un oleaje fuerte y condiciones tormentosas.
Mientras veíamos como de feo estaba el día pensábamos en que inventar para no perder nuestro viaje.
Ahí fue cuando los muchachos decidieron ir a un rail en una cancha ubicada en Isabela donde obtuvimos un par de fotos y un poco de pietaje.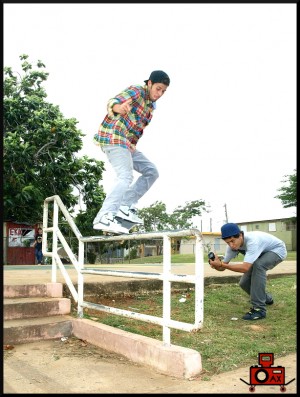 Duhamel Rogriguez
Backside Crooked
Después de correr un rato en Isabela bajamos para Rincón y aprovechar el día para filmar en el SkateTown Skatepark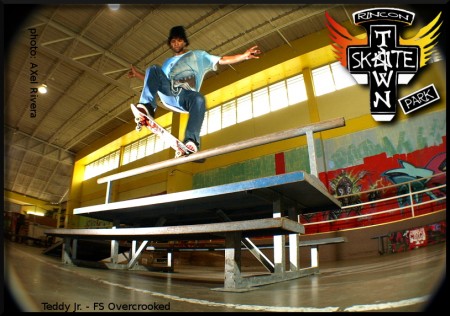 Teddy Jr.
Frontside overcrooked
Espero disfruten del video del tour!

_______________________________________________
Clickea la foto
Aquí un videito viejo demostrando el estilo de vida 2qnps. Esta compilacion fue del verano del 2008. Espero que lo disfruten.
por AXel Rivera
A finales del 2009 nos tiramos de tour rumbo a Arecibo. Teddy, Angel, JJ y yo salimos de Ponce a eso del medio día para encontrarnos con Dovier y Duhamel en el skatepark. Llegamos nosotros primeros y le metimos al parque. Teddy y Angel grabaron sus lines mientras pasaba el rato. Habían par de locales allí corriendo, entre estos estaba Jose Briones aka Palo quien se tuvo que ir a trabajar. Después de un par de horas llegaron Dovier y Duhamel quienes también corrieron el parque y grabaron un par de trucos.
Luego de ahí pasamos a buscar spots y le caímos al primero: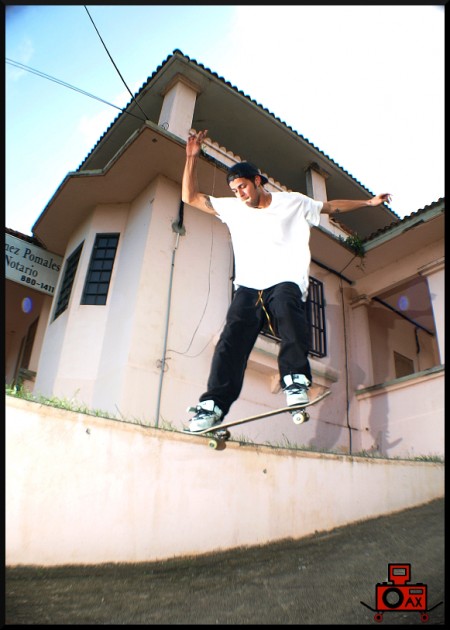 Duhamel Rodriguez
Backside Crooked
Aquí se curaron un rato tirando un par de grinds y slides para calentar la calle. Después del session en este spot regresamos al parque a chilear un rato en lo que la cámara de video cargaba un poco de batería para ir al siguiente spot: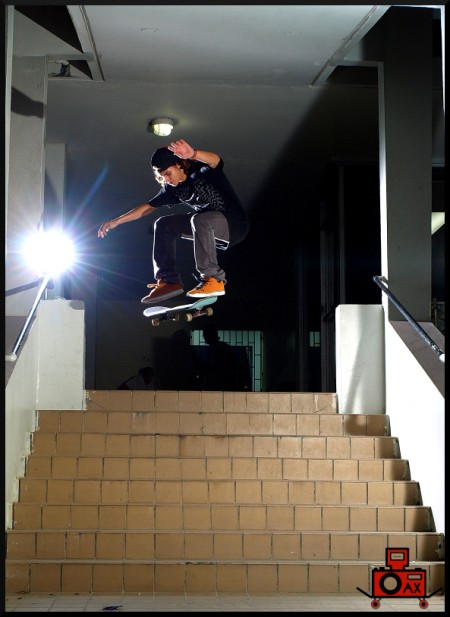 Dovier Chinea
Nollie Heelflip
Después de un par de fotos y un poco de footage nos fuimos a comer y luego bajamos para casa de Duhamel en Camuy donde pasamos la noche para levantarnos a las 6am a comenzar el próximo día de skate. Espero disfruten del material y esperen la segunda parte.
Video:

Fotos:
Si le das a la [ i ] te dice el truco
Si le das a la [ FS ] te pone la galería fullscreen
y Si le das a [ SL ] te hace un slideshow

2qnps Northwest Tour part 1
Aquí un video y una galería de fotos demostrándoles un poco del skateboarding dentro de los limites del skatepark del parque Julio Enrique Monagas en Ponce. Espero que disfruten del material.
– AXel Rivera
www.AXelRivera.tk
Video:

Fotos:

by Teddy Jr.
2qnpsTv en esta ocasión tiene el orgullo de presentar a uno de mis skaters
favoritos. Le tocó el momento a Rubén Darío Rivera de Juana Díaz Puerto Rico.
Lo conozco desde hace tanto tiempo como para poder decir que el es parte de
la familia. Podría decir que he pasado mas tiempo con el que con ellos. Todos
los días corríamos en el barrio con la ilusión de algún día poder grabar y poder
editar pero no teníamos los recursos. Después de un tiempo empezamos a
adquirir las cosas que necesitabamos hasta que nos pudimos poner a filmar.
El es el tipo de amigo que cualquiera quisiera tener. Le gusta compartir sus
conocimientos y si te ve frustrado con cualquier cosa se te sienta al lado a
aconsejarte que es lo mejor. Si es en skate te tranquiliza para que no termines
partiendo la tabla y te saca un manual para que entiendas el truco. Siempre
corriendo con la paciencia necesaria como para estar sonriendo mientras no
le sale nada. Cuando no le sale un truco se sienta, piensa, analiza y tira. Ruben,
espero que te recuperes lo antes posible para salir a correr, grabar y pasar
buenos "good times".
Pedro Huck Rosa tuvo la oportunidad de preguntarle a Rubén Darío sobre su
experiencia grabando este video y esto fue lo que pudo compartir con el:
"Este videíto tiene mucho que contar ya que fue grabado durante un gran
lapso de tiempo. ¡Aparezco con el pelo bien pegado y todo! Me acuerdo que
la espalda me dolía por una semana completa por la caída que aparece al
principio del video. Todo el filming fue un tripeo y siempre se pasa bien grabando
aunque uno no caiga el truco que le guste más. El truco que más me gusto del
video tiene que ser el BS 180 nosegrind shove-it out. Me acuerdo que lo había
caído pero todavía no teníamos la cámara lista y tardé más en tratar de grabarlo,
pero me encantó mas todavía como se vió. Y la grabación de J.J. no tiene precio!
Espero que les haya gustado el video de nuestra familia hacia ustedes."
Video:

Dia 2:
by Teddy Jr
Estuvimos peleando con el sueño para podernos levantar a las 6:30 a.m. ya que la noche anterior la pasamos tripeando el corillo entero. En esta edición de [2qnps] Tv! está todo en orden cronológico. Los spots fueron uno detrás de otro(suerte que existen pastillas para calmar el dolor). Como ven ahí, JJ Rivera metió mano al 100%. Gracias al él es que este tour se pudo llevar acabo por que se atrevió a tirarse el mamey en su carrito. También le doy las gracias a Duhamel Rodríguez quien nos dió la mano soportando a Cantú, JJ, Dovi, Jenssen y a mi personalmente. Este ha sido el trabajo más grande que he elaborado para [2qnps] Tv!. Lo hice con mucho esfuerzo y sacrificio. Espero que les guste.
Gracias a todos los que le metieron a la skate, a los que ayudaron en el filming y a los que le babearon la almohada a Duhamel!