Julio 11 @ Skatepark de Arecibo
Agosto 22 @ SkateTown Rincon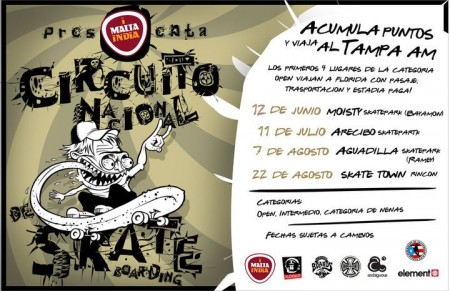 ________________________________________________________________________
Julio 18, @ 3 Palmas Skateshop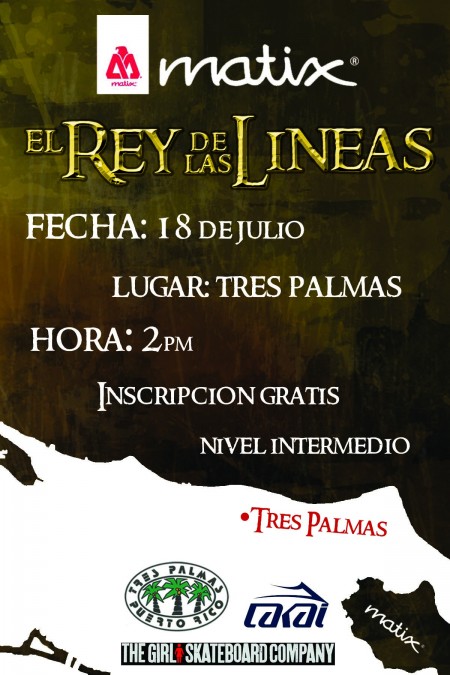 __________________________________________________________________

Julio 25 @ Uluwatus Surf & Skate, Avenida Betances, Bayamon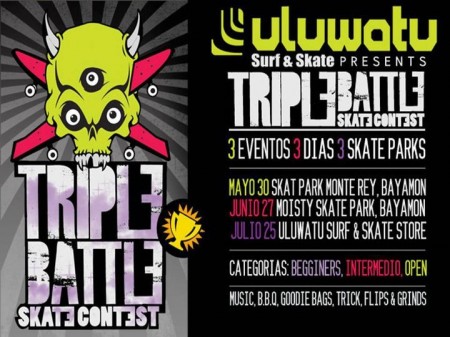 _______________________________________________________________________
El siguiente articulo es gracias a Rincon SkateTown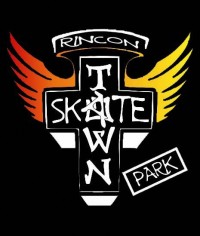 ________________________________
Esto es un slideshow de fotos mias y la video transmision por parte de Mundo Rad TV del skate contest del 24 de abril en Rincon SkateTown!
Fotos: AXel Rivera
Video:
Segmento filmado para el programa televisivo Mundo Rad! TV
Puedes ver este video, fotos y muchas cosas más en http://www.mundorad.com/
Resultados del evento:
Best Trick:
1. Yariel Melendez
2. Hector John Marti
3. Carlos Padilla
Novato:
1. Elijah Latorre
2. Austin Hufangel
3. Tom Soto
Intermedio:
1. Angel Garcia
2. Benji Figueroa
3. Josue Roman
Open:
1. Alexis Rivera
2. Dovier Chinea
3. Yariel Melendez
4. Teddy Jr. Colon
Mad Rican went a little tour trip in Los Angeles, California. Here have some clips montage of some skaters like Huriol Vega , Juan Garcia, Nate Principato, Cristian Hosoi, Joey Bresinski and more..
Este vídeo es traído a ustedes como una colaboración de Huriol Vega aka Mad Rican para GOSkatePR.com. Si estas interesado en participar con nosotros comunicate conmigo atraves de email o facebook:
Email: axrivera@gmail.com
Facebook: http://facebook.com/axrivera

www.MadRican.com
por Teddy Jr.

Como todo evento importante South Corner Films a dicho presente en el ultimo skate contest en el parque de Cabo Rojo. Este parque a sido demolido para la construccion de una plaza para los skaters, hay rumores que ya la empesaron. Espero que los skater del oeste tengan su parque pronto, disfrutenlo de aqui paqui!
Segmento filmado para el programa televisivo Mundo Rad! TV Episodio #30
en el cual presentamos la cobertura del skate contest realizado en Moisty
Skatepark de Bayamon Puerto Rico el Domingo 28 de Marzo organizado por
Victor "Vito" Aponte.
Traido a ustedes gracias al auspicio del Municipio de Bayamon,T Mobile, One
Link, Journeys e Iconica.
Filmado por Pedro Huck Rosa
Edición por Pedro Huck Rosa
Musica:
"Re-L"
Por: Kordan
http://kordan.tv/
"Esterea"
Por: Overlord
http://www.myspace.com/ganstakillaman
Puedes ver este video, fotos y muchas cosas más en http://www.mundorad.com/
Además de en internet, el programa se transmite a traves de Mega TV
Estos son los canales:
Choice 16
Direct TV 169
Dish y One Link 60
Liberty 45
Caja convertidora: de San Juan a Arecibo 60,
Quebradillas 26, Mayagüez 16 y Ponce 23.
Aqui les presento una entrevista que le hiso Pedro "Huck" Rosa a Mecky Creus con respecto a lo que es el video "Explicacion". Echale un vistazo!
Explicación- Un video sobre sk8boarding "Intro" from Mecky Creus on Vimeo.
Al final del post esta el resto de las partes!
1. Resume en breves palabras que es "Explicación", de que consiste, por que el nombre, quienes trabajaron en el proyecto, fecha de release, etc etc.
Explicacion es una recopilacion de pietaje grabado en mini-dv sobre la escena del sk8boarding en PR entre los años 1997-2000. En el 2001 fue el release del video. Por que Explicacion? dejarles saber lo que signifca para nosotros que es correr ejkei; ademas de un deporte, es una pasion, un arte, un estilo de vida!
Yo tenia imaginado mas o menos como iba a hacer la peli y pues lo escribi todo en una libreta. Para el tiempo pues tenia la camara con el fisheye, mejor conocido como el death lens y cientos de mini dv´s con tanto pietaje que ni se acababa. Lo que no tenia era los recursos para editar y montar la pelicula. Ahi fue donde jay entro en el proyecto y me ayudo. De ahi salio Explicacion. Habian muchas cosas por conseguir como musica, logistica de partes, trucos, corredores etc pero a la larga todo cayo en su sitio. El hacer un video es una colaboracion tanto el que esta frente a la camara y detras tambien. Todos los que salieron tambien son parte del proyecto por que sin ellos no habria video.
2. Que te motivó a grabar para el video? Por que escogiste los corredores que tuvieron full parts? que es lo mas que te gusta del video, algun dato curioso o historia de algo ocurrido durante la filmacion que mas recuerdes…
Desde antes de explicacion pues se hicieron otros videos como 100×35, la cual fue casero y tuvo muchisimo impacto que de ese proyecto me llevo a hacer el proximo. Rey, javi y yo empezamos mas o menos para el mismo tiempo(late 80´s) y gracias al ejkei nos conocimos. Aunque jangueabamos con diferentes crowds el ejkei era lo que nos unia y nos tratabamos con igualdad. Si no fuera por el ejkei no se si los hubiese conocido nunca pero como PR es tan pequeño y a la larga todos se conocen pues no creo que hubiese sido lo mismo. Siempre corriamos juntos y grababamos trucos casi siempre y pues tenian suficiente material para tener parte.
Lo mas que me gusta ademas del contenido/partes es la musica, especialmente los superaquellos. Cada vez que escucho su musica me da nostalgia de los tiempos de explicacion 😉
3. Como te sientes de haber inspirado una generacion de skaters y que sientes de ver lo que se esta logrando en el presente gracias en parte a la semilla que plantaste ? consejos para la nueva generacion, etc etc…
Se siente wow papa pa los boyzz(ha!) y espero que la nueva generacion haga lo mismo y mas. Estiren bien antes y despues de correr ejkei que sino empezaras a sentir 10 años tarde, ha! Recuerda que al hacer un fakie tre bien hot karolina es como tubearse un tubo bien gordo en chatarra offshore bien masa pa´la casa!

4. Random freestyle it…
Sk8 and create!
1. intro   http://www.vimeo.com/8638349
2. montage 1   http://www.vimeo.com/8639437
3. reynaldo   http://www.vimeo.com/8640729
4. montage 2   http://www.vimeo.com/8644084
5. mecky  http://www.vimeo.com/8641956
6. Montaje 4 http://www.vimeo.com/8806611
7. javi gaztambide  http://www.vimeo.com/8641489
8. suas tour http://www.vimeo.com/8733469
9. montage 3   http://www.vimeo.com/8733692
10. creditos http://www.vimeo.com/8733164
Este articulo es traido a ustedes gracias a Rincon Skate Town!
El unico Skatepark bajo techo en Puerto Rico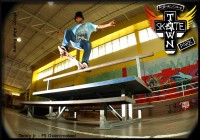 ____________________________________________________________
por: AXel Rivera
www.AXelRivera.tk
EL 24 de abril, día antes del contest, llegamos a Rincón. Christina nos había dado la verde de quedarnos en su casa ese weekend así que aprovechamos la oportunidad.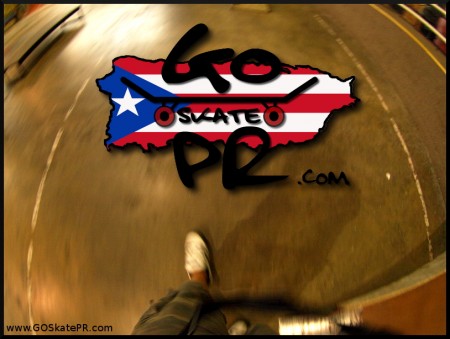 Llegamos a SkateTown por la tarde y encontramos la sorpresa de un nuevo spot al cual Johnerik decidió darle un Taildrop desde las rejas.
Aqui tenemos a Chagy Vargas dandole un crooked to fakie al nuevo spot!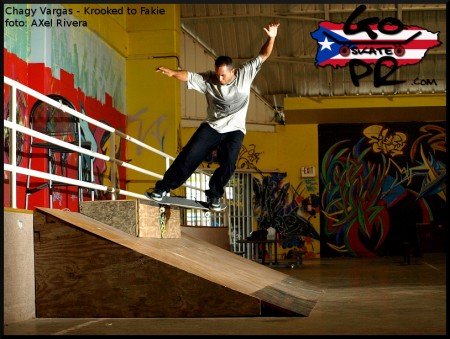 Estuve tomando un par de fotos ya que había un ambiente de pompeaera. El parque estaba lleno de gente practicando por que el próximo día había skate contest.
Aqui Teddy Jr dandole un Transfer a Kickflip en el funbox!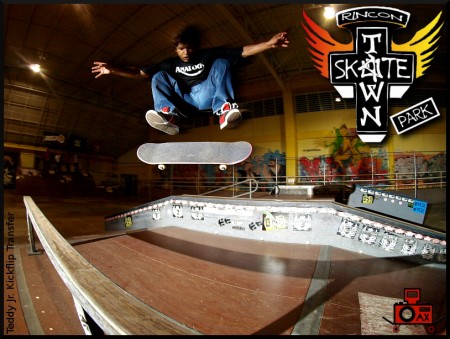 Al finalizar el sesh de skate terminamos en casa de Christina donde hubo un buen compartir de skaters. Llego el momento que habian sobre 30 personas en la casa.
En la foto vean como se cocinan los "jod dot teddy!" dentro del Pollo.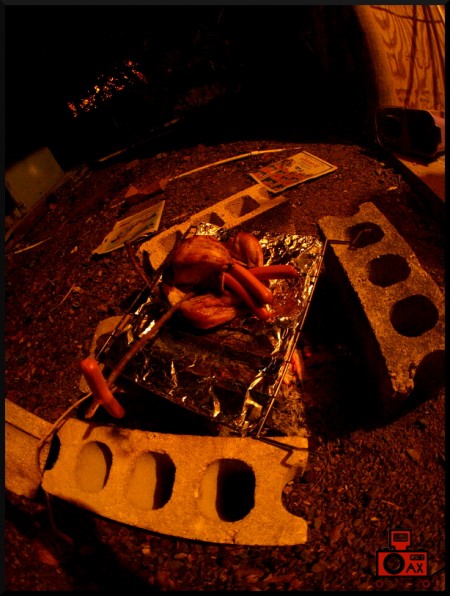 Pollo Relleno de Perros!
Mas Fotos:
Si le das a la [ FS ] te pone la galería fullscreen
y Si le das a [ SL ] te hace un slideshow