Hoy tenemos una colaboración directamente desde La Factoria en Cidra. Gracias a John Daniel quien nos trae esta compilación de José "Chiqui" Colón. Disfruten!
por Teddy Jr.:
Para mi es un orgullo compartir mi experiencia corriendo en otro lugar que no es mi pais Puerto Rico.
Pues desde que comence a correr siempre quise hacerlo en Estados Unidos y ya he logrado viajar a algunos buenos lugares.
Aquí les comparto este video filmado en Los Angeles, Long Beach y San Diego en California.
El cual es un video que pueden ver los diferentes parques que corriamos casi a diario y los lugares street que puedes entontrar en la carretera.
Filmación por:
Manny Santiago
Jesus Correa
Max Bouton
Spanish Mike
I was dreaming all my life about go out and skate another countries and my fisrt time was in New York the last year one of the biggest experience ever!!
Nex year after New York the target was California Los Angeles.
Thanks to my homie Jesus Correa I get the chance for stay the enough longer like for make a video part.
Im sharing with all of you how greatfull was Cali.
by: Teddy JR.
Canal de youtube: http://www.youtube.com/teddyjrcolon
Espero puedan disfrutar de este video que quise compartir con ustedes. Aveces nos quejamos y frustramos por que no nos salen ciertos trucos o tenemos miedo de brincar ciertas escaleras pero miren como las ganas de querer hacerlo logran que algo que pareceria imposible vaya mas alla de eso. Sigan practicando que a la larga seran buenos si se lo proponen!
AMAZING skater! brought to you by Funny Pictures
por: AXel Rivera
www.AXelRivera.tk
1st Annual Steve Steadham Spyder Cup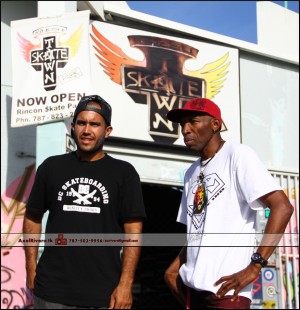 Al otro dia del Lakai MJ Ledge Best Trick and BBQ tuvimos el primer evento hecho por Steve Steadham Skate Industries en Rincon SkateTown.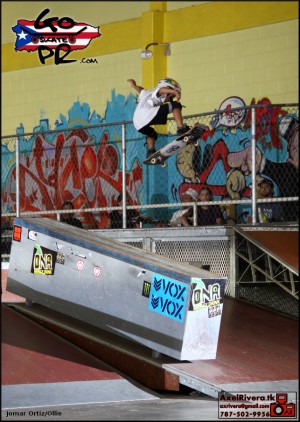 Este evento conto con la categoria de novatos e intermedio quienes corrieron juntos ya que habian pocos novatos pero fueron jueceados aparte.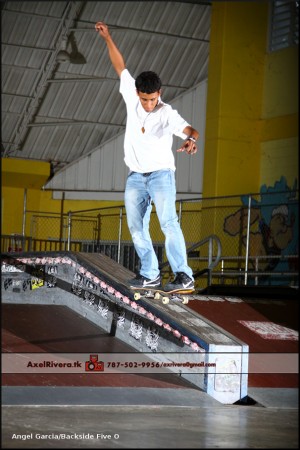 Al comenzar la categoria de Open comenzo el show de trucos que nos dejaba sin movernos de nuestros lugares.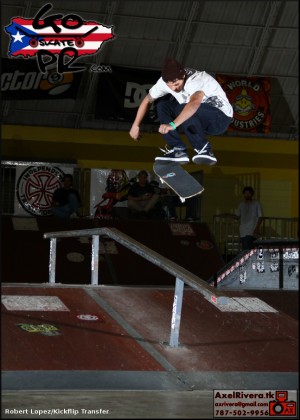 Cada corredor tenia 1 minuto para demostrar lo setiao que tenian el parque.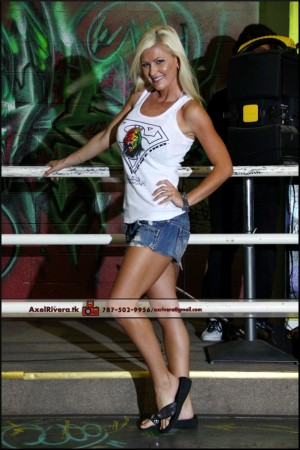 Tambien tuvimos a Ashley Noelle quien es modelo profesional para diversas marcas en California.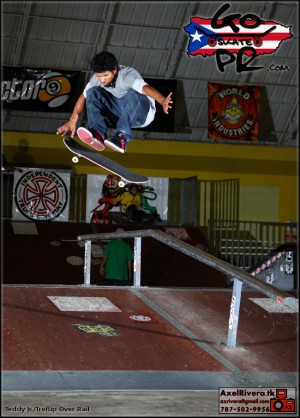 Uno de los trucos que mas me impresiono durante este dia fue un Trefllip Over the rail de lao a lao ejecutado por Teddy Jr.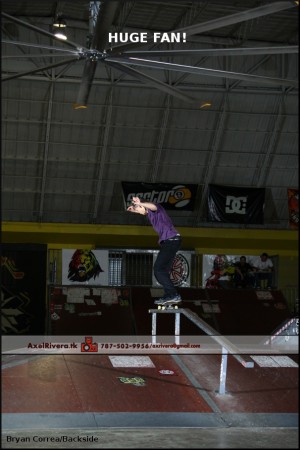 Uffff y el abanico, otro nivel quien dijo calor en SkateTown? La proxima ves que vaya obligao que llevo abrigo!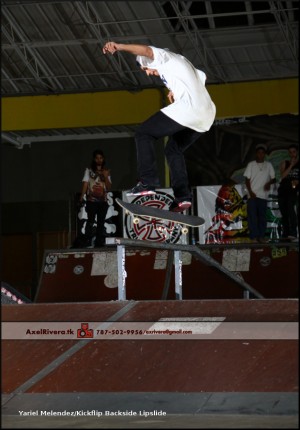 Durante el evento Steve estuvo observando a los corredores para ver quien podria ser el privilegiado para tener "Factory Sponsorship" de Steve Steadham Skate Industries. Esto hiso que el sesh de todo el dia fuera super pesado y dejando mucho de que hablar.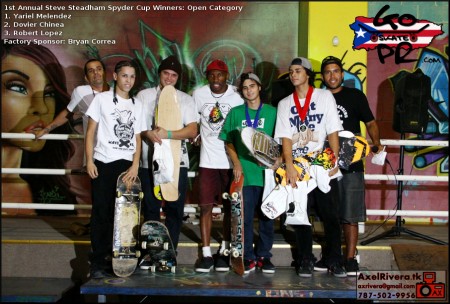 Felicidades a todos los ganadores!
Galeria:
_____________________________________
por AXel Rivera
www.AXelRivera.tk
El Element Drop Spot celebrado en Tres Palmas Surf Shop fue un evento unico ya que consistia en un street course montado por los obstaculos "Element Drop Spot".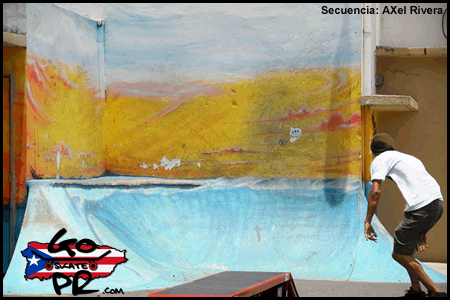 Jenssen Torres/Wallride to Wallride
Este skate contest fue organizado por la gente de Tres Palmas Surf Shop ubicado en Ocean Park, Isla Verde. El estacionamiento del shop cuenta con un quater grande y al otro lado esta pared donde acabamos de ver a Jenssen Haciendo un WallRide to WallRide desafiando la gravedad!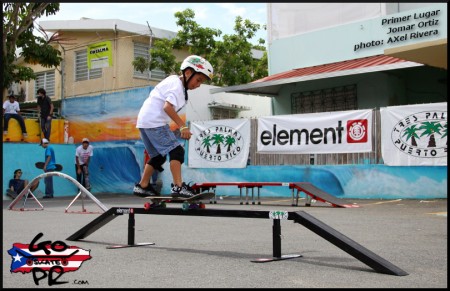 Jomar Ortiz/50-50
Se llevaron acabo dos best trick donde el ganador se llevaba para su casa el Element Drop Spot que corrieron. En la categoria de novato fue Jomar Ortiz quien se llevo el flat rail para la ciudad de Ponce.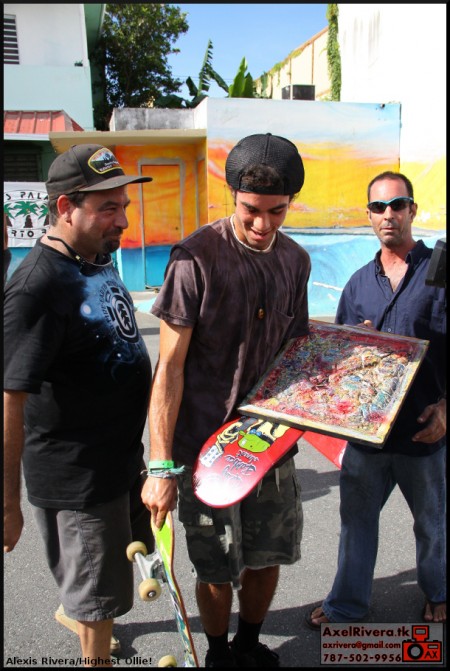 Alexis Rivera/Highest Ollie
Mientras tanto tambien se llevaron acabo varios Challenge como un Highest Ollie utilizando otro de los obstaculos "Element Drop Spot" donde Alexis Rivera demostro quien es el rey del "Pop!" pasando sobre 40″ o 41″ comodo. Respect!

Robert Lopez/Highest Wallride
Aprovechando la pared del skateshop con su gran obra de arte en construccion y pintura que simula una ola con el cielo y las nubes tenemos al ganador del Highest WallRide Robert Lopez. Eso esta Fokin alto!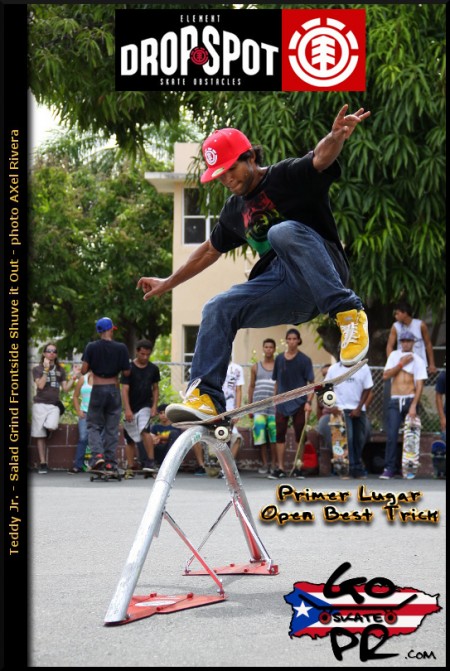 Teddy Jr./Backside Salad to Frontside Shuveit
Ganador del Best Trick
En la categoria del best trick de open hubieron muchos trucos buenos destacando Backside Smithgrinds, 50-50s to SexChange hasta switch 50-50 pero fue Teddy Jr. quien conquisto el Rainbow Bar and Polejamed's de los "Element Drop Spot" con un Backside Salad Frontside Shuve it out! Felicidades a Teddy Jr.!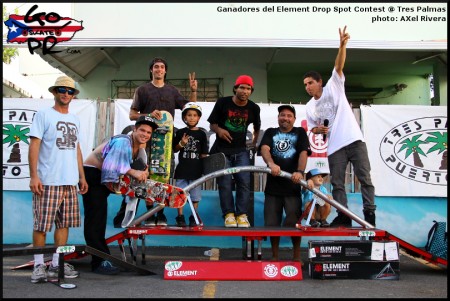 Felicidades a los Ganadores:
Teddy Jr. Best Trick Open
Jomar Ortiz Novato
Alexis Rivera Highest Ollie
Robert Lopez Highest Wallride
Video:

Fotos: