por: Axel Rivera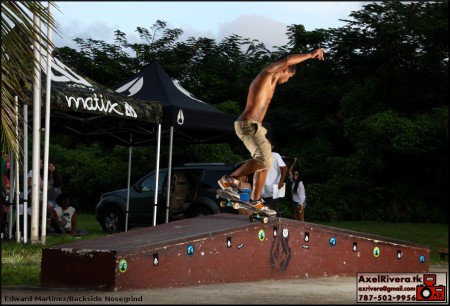 El Sabado 27 de Noviembre fuimos testigo del segundo Lakai MJ Best Trick and BBQ. Al igual que la primera parte este evento fue mas que un contest de skate, fue tambien un get together de skaters con BBQ y Cervezas gratis. Un sol demente pero una brisa que refrescaba y mientras se cocinaban los hamburgers y hot dogs el MJ ledge era el enfoque para nuestros muchachos. Hay que felicitar a Hector John Marti quien por segunda ves consecutiva gana este Best Trick contest demostrando quien es el rey del technical.
Resultados:
1. Hector John Marti
2. Duhamel Rodriguez
3. Edward Martinez
4. Wesley Soto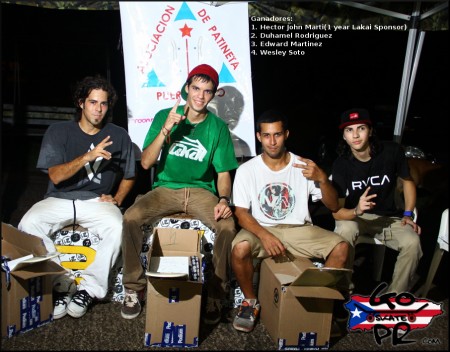 Fotos:

Video:

Video Gracias a Huriol Vega aka Mad Rican( www.MadRican.com )
Aguadilla, 27 de Noviembre: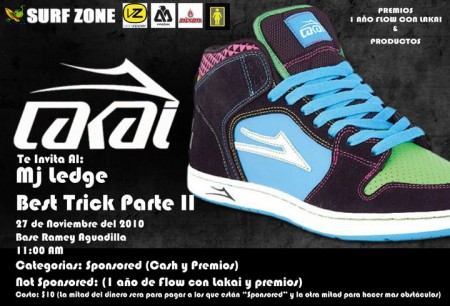 ____________________________________________________________
Rincon SkateTown, Noviembre 28(Skateboarding)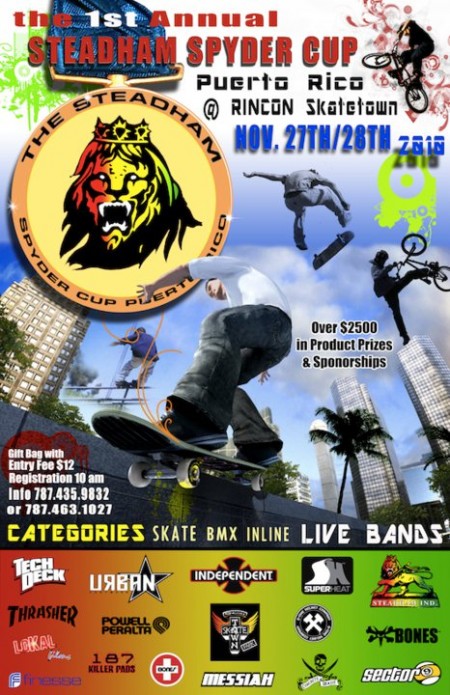 ____________________________________________________________
Entra a la pagina de Eventos para que estes al tanto de los proximos skate contest!
_____________________________________
por AXel Rivera
www.AXelRivera.tk
El Element Drop Spot celebrado en Tres Palmas Surf Shop fue un evento unico ya que consistia en un street course montado por los obstaculos "Element Drop Spot".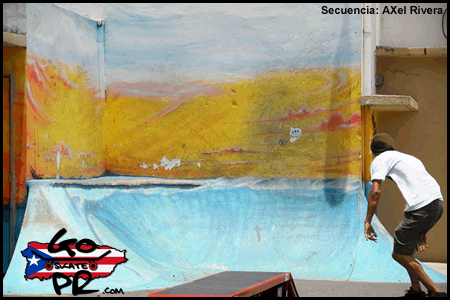 Jenssen Torres/Wallride to Wallride
Este skate contest fue organizado por la gente de Tres Palmas Surf Shop ubicado en Ocean Park, Isla Verde. El estacionamiento del shop cuenta con un quater grande y al otro lado esta pared donde acabamos de ver a Jenssen Haciendo un WallRide to WallRide desafiando la gravedad!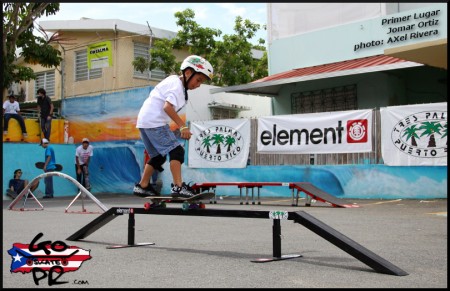 Jomar Ortiz/50-50
Se llevaron acabo dos best trick donde el ganador se llevaba para su casa el Element Drop Spot que corrieron. En la categoria de novato fue Jomar Ortiz quien se llevo el flat rail para la ciudad de Ponce.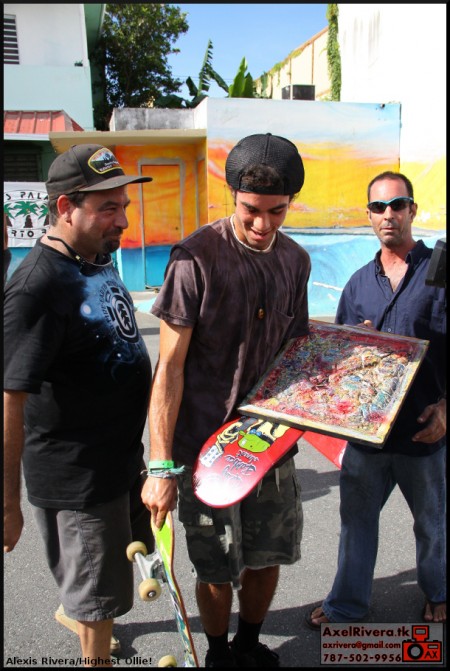 Alexis Rivera/Highest Ollie
Mientras tanto tambien se llevaron acabo varios Challenge como un Highest Ollie utilizando otro de los obstaculos "Element Drop Spot" donde Alexis Rivera demostro quien es el rey del "Pop!" pasando sobre 40″ o 41″ comodo. Respect!

Robert Lopez/Highest Wallride
Aprovechando la pared del skateshop con su gran obra de arte en construccion y pintura que simula una ola con el cielo y las nubes tenemos al ganador del Highest WallRide Robert Lopez. Eso esta Fokin alto!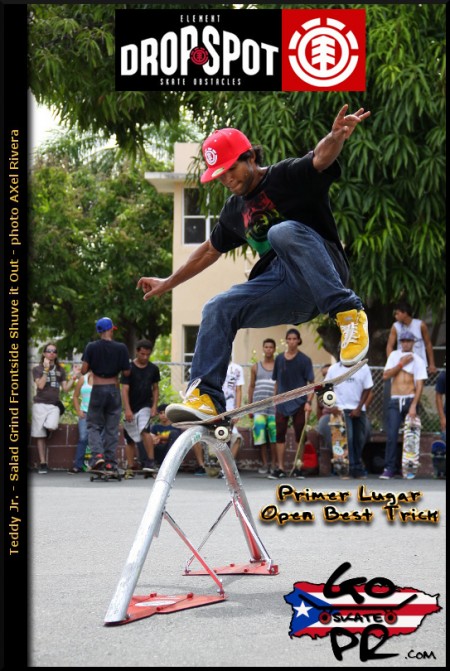 Teddy Jr./Backside Salad to Frontside Shuveit
Ganador del Best Trick
En la categoria del best trick de open hubieron muchos trucos buenos destacando Backside Smithgrinds, 50-50s to SexChange hasta switch 50-50 pero fue Teddy Jr. quien conquisto el Rainbow Bar and Polejamed's de los "Element Drop Spot" con un Backside Salad Frontside Shuve it out! Felicidades a Teddy Jr.!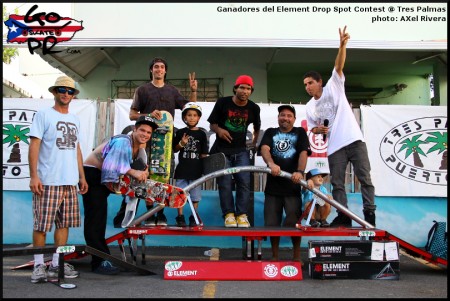 Felicidades a los Ganadores:
Teddy Jr. Best Trick Open
Jomar Ortiz Novato
Alexis Rivera Highest Ollie
Robert Lopez Highest Wallride
Video:

Fotos:
por: AXel Rivera
_______________________
El pasado 28 de Agosto se estuvo celebrando el "Free Skate Day and Demo Famous" @ Moisty Skatepark, Bayamon!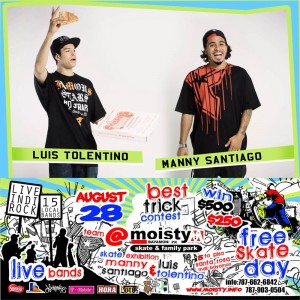 Durante este día estuvieron bandas Hardcore tocando en vivo mientras en el skatepark todos podían correr de gratis.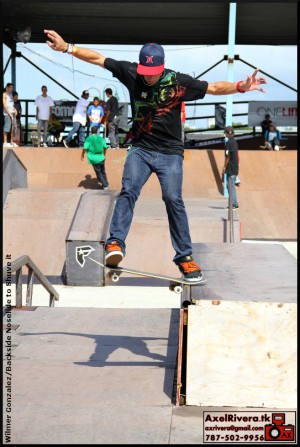 Wilmer Gonzalez/Backside Noseslide to Shuve it
A eso de las 2:00pm comenzó el demo de Famous con Luis Tolentino, Manny Santiago, Duhamel Rodriguez, Teddy Jr,  y Orlando Ramos.
Este sesh se dio muy bueno y pudimos ver el dominio y la consistencia de estos skaters.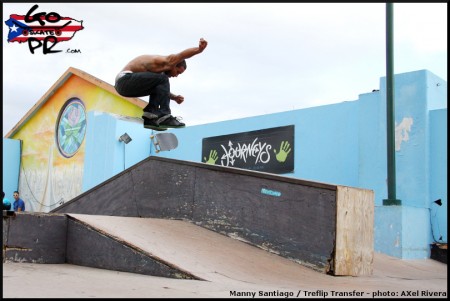 Manny Santiago/360Flip Transfer
Mientras caía el sol se estuvo celebrando el best trick que incluia la parte de los ledges y el pasa mano.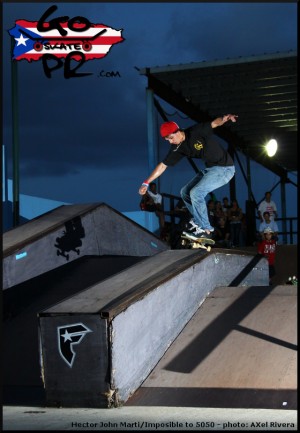 Hector John Marti/Impossible to 50-50
Este best trick lo ganaron Hector John Marti en primer lugar con un impossible to 50-50, Teddy Jr. en segundo con 360flip to 50-50 y Bryan correa tercero con un huge backside Five O.
A continuación pueden disfrutar del video y la foto galeria del demo:
Video:

Video por J.J. Rivera & Teddy Jr.
Galeria:

fotos por AXel Rivera
por: Huriol Vega
www.MadRican.com
Aqui te traigo este video de buen recuerdo fue grabado desde el 2005 or 2006 filmado por Huriol Vega.
Este video es dedicado para los skaters q estaba presente en esa actividad del sk8contest ubicado en el skatepark en Fajardo.Ese Skatepark es hecho en metales. Los Montages de los Skateres fueron Alexis Rivera, Hector Sanchez , Samyr Melendez, Alex Vidal, Melvin Fuente, Luis Miguel y otros skaters. Gracias a Luis Miguel, Alexis Rivera and Camera(huck).
Sin ellos, no hay recuerdo !!!!!
__________________________________________________
Este vídeo es traído a ustedes como una colaboración de Huriol Vega a.k.a. Mad Rican para GOSkatePR.com. Si estas interesado en participar con nosotros comunicate conmigo atraves de email o facebook:
Email: axrivera@gmail.com
Facebook: http://facebook.com/axrivera
Este concurso es traido a ustedes gracias a Rincon SkateTown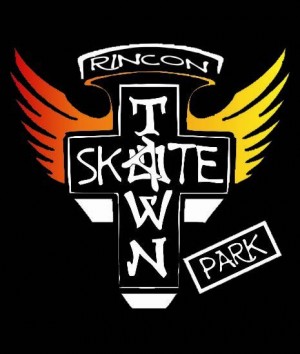 ___________________________________________
Tengo 3 Gorras y Tres peliculas de Sector 9: "Second Nature" para regalar a las siguientes tres personas.
El primero que deje comment diciendo quienes fueron los 3 lugares de la categoria Novato en el skate contest del dia de ayer en Rincon SkateTown.
El primero que deje comment diciendo quienes fueron los 3 lugares de la categoria  Intermedio en el skate contest del dia de ayer en Rincon SkateTown.
El primero que deje comment diciendo quienes fueron los 3 lugares de la categoria  Open en el skate contest del dia de ayer en Rincon SkateTown.
Solo una persona por categoria gana!