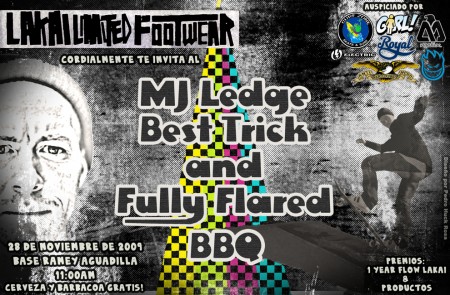 ¡Ven y participa en este best trick en el ledge inspirado por la película Fully Flared
de Lakai! El evento será celebrado el Sábado 28 de noviembre de 2009 en la base
Ramey de Aguadilla, comenzando desde las 11:00am hasta que caiga el sol.
Habrá dos categorías:
1. Corredores Auspiciados: Cerveza y productos gratis para los primeros tres lugares.
2. Corredores No Auspiciados: 1 año de auspicio flow con Lakai para el primer lugar
y productos para segundo y tercer lugar.
El evento será juzgado por los mismos skaters que compitan en las diferentes categorías.
¡Habrá BBQ gratis!
Traído a ustedes por Lakai Limited Footwear, Surf Zone, Matix Clothing, Electric Visual,
Girl Skateboards, Royal Trucks, Antihero Skateboards, Real Skateboards & Spitfire Wheels.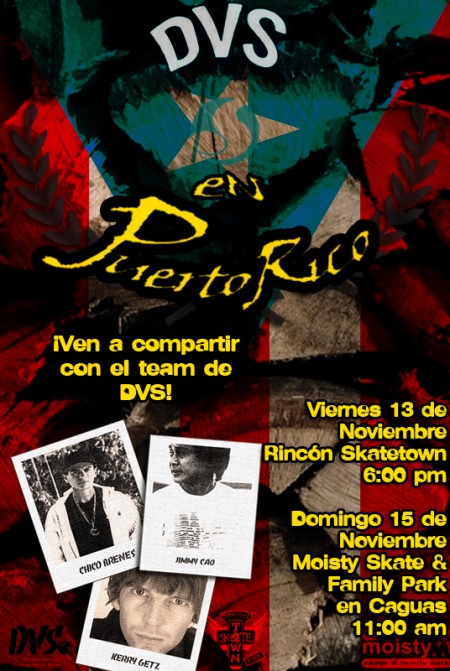 Team DVS en Puerto Rico
¡Ven y comparte con el team de DVS!
Viernes 13 de Noviembre
en Rincón Skatetown 6:00pm
Habrá jameo, así que trae tu skate, tu cámara y tu corillo.
Domingo 15 de Noviembre
en Moisty Skate and Family Park de Caguas 11:00am
Estarán jueceando el contest y apoyando a los competidores locales.
BE THERE!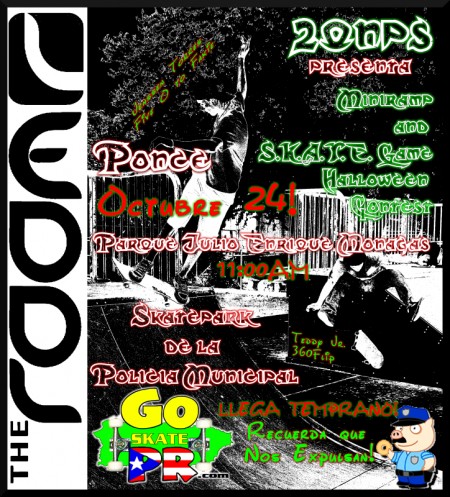 Musica confirmada:
AIZ 731:  http://www.myspace.com/aizfrontline
DJ MALIUS:  http://www.myspace.com/djmalius
OBLIVION PR: http://www.myspace.com/oblivionpr
NEOLUCION: http://www.myspace.com/neolucion
Por Pedro Huck Rosa
Seguimos trabajando con mucho esmero y enfocados en presentar continuidad para así poder mostrarles el progreso en la producción de la película, en especial a todos aquellos que diariamente nos preguntan ¿Cuando sale Misiles de Racimo?  Gracias por el interés en el proyecto, ya que esto nos llena de mucha motivación para seguir adelante, sobrellevando toda tribulación y tornando toda imposibilidad en realidad.
En este update presentamos nuevo material fotográfico de Iradiel Rivera, quien a través del proyecto ha tenido la oportunidad de pulir sus habilidades capturando momentos que, aún para los que lo presenciaron, resultan ser increíbles.
Se que te mueres por saber que pasa por la mente de Manuel de León mientras observa este rail que puede ser calificado como un obstaculo, pero para soñadores no es mas que un mero vehiculo para alcanzar ese tan preciado sueño.
Entra a WWW.MISILESDERACIMO.COM para que puedas ser testigo de lo ocurrido durante este ataque.
Para el 24 de octubre tendremos un Mini Ramp and S K A T E Game contest…
Pronto mas info