Hoy les presento otra entrega por nuestro fiel colaborador Gustavo Torres de New West Films donde presenta lo mejor de sus grabaciones para el 2003.

New West Films presenta grabaciones clasicas en el 2003 de Gustavo Torres
Buenos tiempos…
Filmed by Pedro Huck Rosa
Pelu Cuevas
Huriol Vega
Alexis Rivera
Edited by
Gustavo Torres
Saludos amigos, hoy les comparto una colaboración por parte de Julio Rodriguez de Xlogic Films donde nos muestra una colección de 2 dias en el nuevo Skate Plaza de Ponce. Para hacerlo mas interesante también añadí una selección de las fotos que obtuve durante esos dos dias de filmación. Difruten!

Aquí un video clip 2 dias en el nuevo skateplaza de Ponce en Caobos el paraiso oscuro con…Jomar Ortiz, Andres Mora, Julio Rodz, Manuel Claudio, Joel Aibonito, Joan Rivera, Yamil, Jenssen Torres, Fico Rodz, Kevin Negron, Issac Martinez, Steven Owen, Christian Perez, Yariel Melendez, Johnerick Feliu y Jose "Chiqui" Colon
It is what it is…Have fun!!! Huyuyuiii
Filmed N Edited: Julio Rod
Canal de Youtube: https://www.youtube.com/xlogic420
http://www.goskatepr.com
http://www.todobienskateboarding.com
 Galeria de fotos:
por Teddy Jr.:
Para mi es un orgullo compartir mi experiencia corriendo en otro lugar que no es mi pais Puerto Rico.
Pues desde que comence a correr siempre quise hacerlo en Estados Unidos y ya he logrado viajar a algunos buenos lugares.
Aquí les comparto este video filmado en Los Angeles, Long Beach y San Diego en California.
El cual es un video que pueden ver los diferentes parques que corriamos casi a diario y los lugares street que puedes entontrar en la carretera.
Filmación por:
Manny Santiago
Jesus Correa
Max Bouton
Spanish Mike
I was dreaming all my life about go out and skate another countries and my fisrt time was in New York the last year one of the biggest experience ever!!
Nex year after New York the target was California Los Angeles.
Thanks to my homie Jesus Correa I get the chance for stay the enough longer like for make a video part.
Im sharing with all of you how greatfull was Cali.
by: Teddy JR.
Canal de youtube: http://www.youtube.com/teddyjrcolon
Saludos amigos, hoy les traigo una nueva colaboración por parte de Gustavo Torres de New West Films donde nos presenta una compilación street de varios de los mejores skaters del area oeste de Puerto Rico. Disfruten!
New West Films presenta – Patineta en la isla
Duhamel Rodriguez, Angel Lopez, Hector Marti, Johnerik Feliu, Juan Carlos Cuevas, Dereck Ramos, Jose Cruz, Angel Garcia, Alexis Rivera, Pedro Huck Rosa, Julio Rodriguez, Jose Chiqui Colon, Robert Lopez Mont
Directed, Filmed and Edited by: Gustavo Torres
Canal de youtube: http://www.youtube.com/NewWestFilmsTV
Extra Filmers:
Julio Rodriguez
Pedro Huck Rosa
Juan Santo
Alexis Rivera
Song by Similar – Magneta
Aquí les traigo una selección de fotos del nuevo Skate Plaza de la ciudad de Ponce Puerto Rico. Espero les gusten!
Para muchas más fotos pueden accesar a www.AxelRivera.net/blog
Enjoy!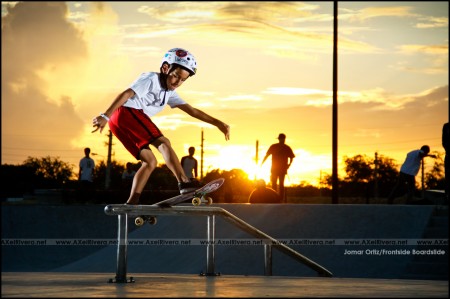 Jomar Ortiz/Frontside Boardslide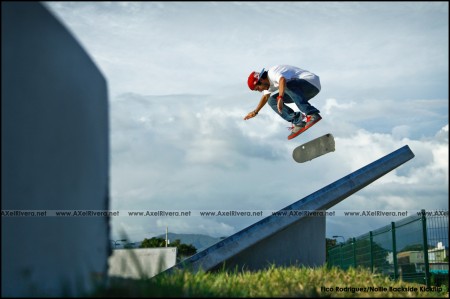 Fico Rodriguez/Nollie Backside Kickflip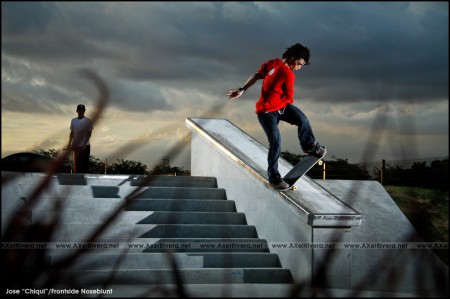 Jose Angel Colon "Chiqui"/Frontside Noseblunt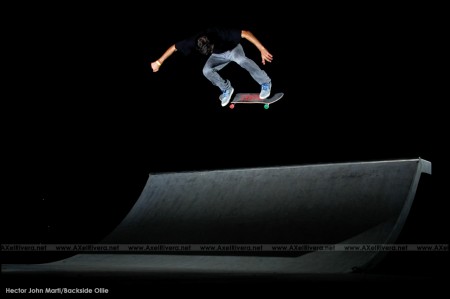 Hector John Marti/Backside Air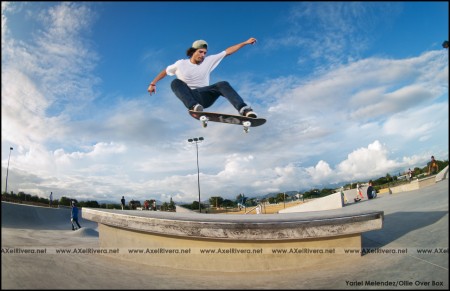 Yariel Melendez/Ollie Over Box
Aquí les presento la más reciente colaboración por parte de Emil José quien nos trae un trailer de una pequeña movie que esta desarrollando, espero lo disfruten tanto como yo.

Bueno este es el trailer oficial de un pequeño full video llamado
"The Madness Video". Que apenas llevamos trabajandolo unos
5 meses que han parecido eternos! Pero el video estara pronto en salir
Good Homies having good times!
Filmado y editado por: Emil Jose
www.youtube.com/jukkaworldpage
www.facebook.com/MetroFilmz
Saludos Patineteros, hoy les presento un video traido gracias a "Los Parceleros" dejandonos ver lo que esta sucediendo en la "new school" de la escena de Ponce ahora con el recien inagurado Los Caobos Skate Plaza. Enjoy!

Editado por Jonathan Caraballo
Filmado por Edwin Matos
Canal de Youtube: http://www.youtube.com/J0HNJ0HN09
Cancion: Tego Calderón – Mil Cosas