Reportaje: Element Drop Spot @ Tres Palmas Surf Shop!
_____________________________________
por AXel Rivera
www.AXelRivera.tk
El Element Drop Spot celebrado en Tres Palmas Surf Shop fue un evento unico ya que consistia en un street course montado por los obstaculos "Element Drop Spot".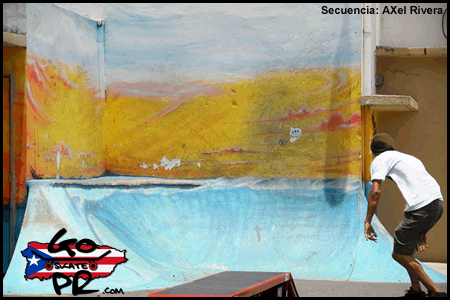 Jenssen Torres/Wallride to Wallride
Este skate contest fue organizado por la gente de Tres Palmas Surf Shop ubicado en Ocean Park, Isla Verde. El estacionamiento del shop cuenta con un quater grande y al otro lado esta pared donde acabamos de ver a Jenssen Haciendo un WallRide to WallRide desafiando la gravedad!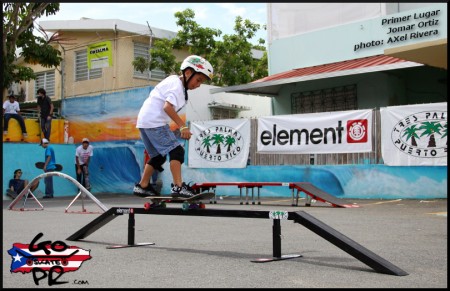 Jomar Ortiz/50-50
Se llevaron acabo dos best trick donde el ganador se llevaba para su casa el Element Drop Spot que corrieron. En la categoria de novato fue Jomar Ortiz quien se llevo el flat rail para la ciudad de Ponce.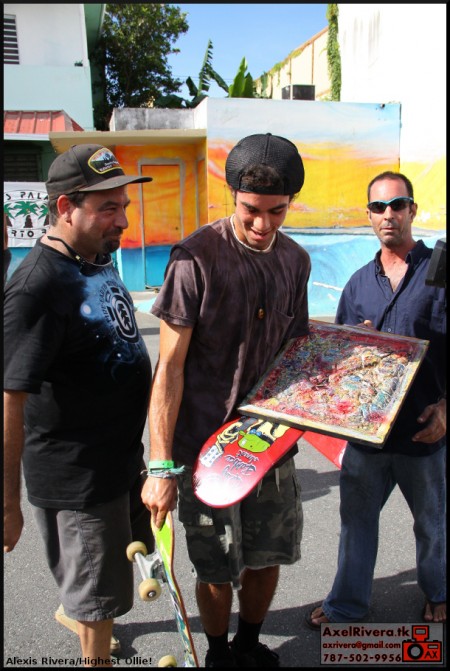 Alexis Rivera/Highest Ollie
Mientras tanto tambien se llevaron acabo varios Challenge como un Highest Ollie utilizando otro de los obstaculos "Element Drop Spot" donde Alexis Rivera demostro quien es el rey del "Pop!" pasando sobre 40″ o 41″ comodo. Respect!

Robert Lopez/Highest Wallride
Aprovechando la pared del skateshop con su gran obra de arte en construccion y pintura que simula una ola con el cielo y las nubes tenemos al ganador del Highest WallRide Robert Lopez. Eso esta Fokin alto!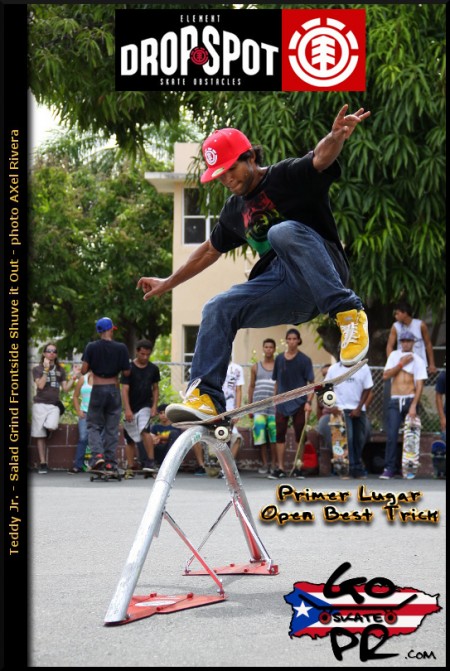 Teddy Jr./Backside Salad to Frontside Shuveit
Ganador del Best Trick
En la categoria del best trick de open hubieron muchos trucos buenos destacando Backside Smithgrinds, 50-50s to SexChange hasta switch 50-50 pero fue Teddy Jr. quien conquisto el Rainbow Bar and Polejamed's de los "Element Drop Spot" con un Backside Salad Frontside Shuve it out! Felicidades a Teddy Jr.!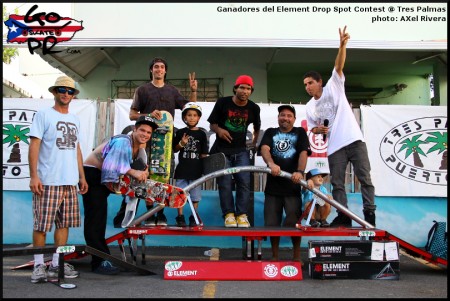 Felicidades a los Ganadores:
Teddy Jr. Best Trick Open
Jomar Ortiz Novato
Alexis Rivera Highest Ollie
Robert Lopez Highest Wallride
Video:

Fotos:
3 Responses to Reportaje: Element Drop Spot @ Tres Palmas Surf Shop!