Reportaje: Demo Famous + Best Trick Contest @ Moisty Skatepark, Bayamon
por: AXel Rivera
_______________________
El pasado 28 de Agosto se estuvo celebrando el "Free Skate Day and Demo Famous" @ Moisty Skatepark, Bayamon!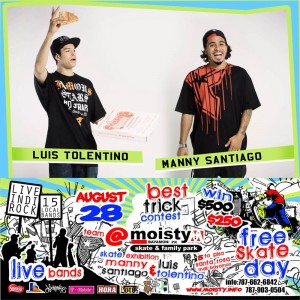 Durante este día estuvieron bandas Hardcore tocando en vivo mientras en el skatepark todos podían correr de gratis.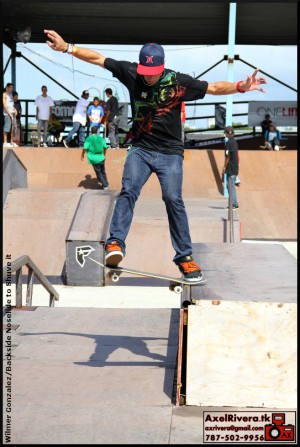 Wilmer Gonzalez/Backside Noseslide to Shuve it
A eso de las 2:00pm comenzó el demo de Famous con Luis Tolentino, Manny Santiago, Duhamel Rodriguez, Teddy Jr,  y Orlando Ramos.
Este sesh se dio muy bueno y pudimos ver el dominio y la consistencia de estos skaters.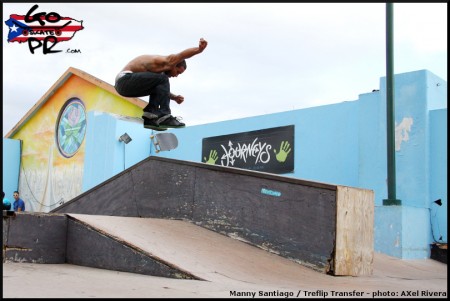 Manny Santiago/360Flip Transfer
Mientras caía el sol se estuvo celebrando el best trick que incluia la parte de los ledges y el pasa mano.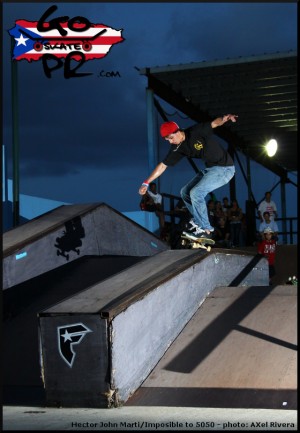 Hector John Marti/Impossible to 50-50
Este best trick lo ganaron Hector John Marti en primer lugar con un impossible to 50-50, Teddy Jr. en segundo con 360flip to 50-50 y Bryan correa tercero con un huge backside Five O.
A continuación pueden disfrutar del video y la foto galeria del demo:
Video:

Video por J.J. Rivera & Teddy Jr.
Galeria:

fotos por AXel Rivera
One Response to Reportaje: Demo Famous + Best Trick Contest @ Moisty Skatepark, Bayamon