MJ Ledge Best Trick and Fully Flared BBQ Report
by AXel Rivera
www.AXelRivera.tk
Después de un viaje largo de Ponce para Aguadilla llegamos a una estación de gasolina donde por casualidad nos encontramos a Tito Echevarría, quien nos guia a un spot secreto. Al pasar por un camino de tierra llegamos a una cancha ubicada entre muchos árboles y un ambiente familiar. Hacía una calor salvaje y un sol playero que era de babilla. Varias neveras llenas de cervezas, un BBQ echando humo avisándote que se estaban cocinando los hamburgers y un ledge particular inspirado por la pelicula "Fully Flared" de Lakai Footwear. Así era que se llevaba a acabo el "MJ Ledge Best Trick and Fully Flared BBQ Skate Contest".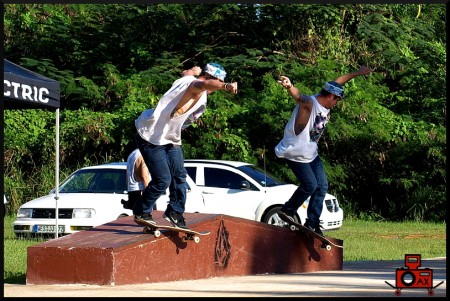 Robert López
Backside Smith Completo
Los eventos de la escena siempre deberían ser así. El compartir que había allí era motivo suficiente para pasar el día. Eso sin contar la demencia de trucos que tiraron en ese ledge. Recordando como participantes dementes a Christian Rivera, Robert López, Dovier Chinea, Duhamel Rodríguez, Alexis Rivera, Hector John Marti, Jenssen Torres y hasta Teddy Jr. con el Fifty Poppins to backside entre otros.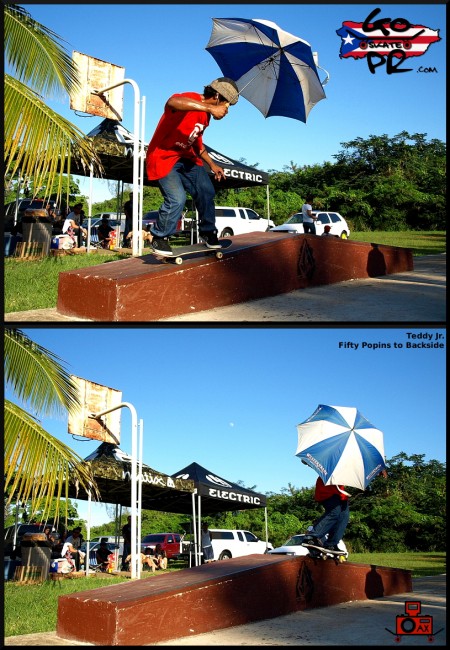 Después de un rato de este espectacular show de trucos se acabaron las cervezas y se paso a decidir los ganadores de este evento:
Non sponsored:
1. Hector John Marti (one year con Lakai flow entre otras cositas)
2. Jose "Palo" Briones
3. Duhamel Rodríguez
Sponsored:
1. Robert López
2. Alexis Rivera
3. Christian Rivera
___________________________________________________
Fotos:
Si le das a la [ i ] te dice el truco
Si le das a la [ FS ] te pone la galería fullscreen
y Si le das a [ SL ] te hace un slideshow

MJ Ledge Best Trick and Fully Flared Barbeque
Video:
por Alfredo Riollano

Link directo a video de Mundo Rad! TV:
MUNDO-RAD-TV-#13-PARTE-2
Mas Fotos y videos:
www.mundorad.com
www.aruizphoto.com
3 Responses to MJ Ledge Best Trick and Fully Flared BBQ Report